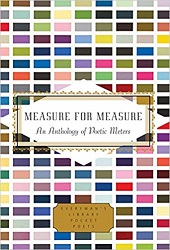 Measure for Measure
An Anthology of Poetic Meters
edited by Annie Finch and Alexandra Oliver
Everyman's Library Pocket Poets, Alfred A. Knopf, New York, 2015. 256 pages.
Measure for Measure is like a college course on poetic meter. You learn about the different metric forms and then hear examples.like a college course on poetic meter. You learn about the different metric forms and then experience them.
The book explains various types of poetic meter – and then is filled with examples. This is a book that should be read aloud! There's a nice selection of classic poems I'd heard before combined with more modern ones.
My one little complaint was that many examples were only excerpts from longer works, and I would have preferred the complete poem in most cases. But I have to say that this did keep the book short and manageable. The Everyman's Library Pocket Poets come in a compact size, easily carried about, with a ribbon bookmark.
My method was to read aloud the poems on one double-page spread each morning. Hearing the poems, I quickly got a feel for the different meters.
Reading the names of the sections, you'll understand that this book will teach you about new poetic forms. We've got: Accentual Poems, Trochaic Poems, Anapestic Poems, Dactylic Poems, Iambic Poems, Poems in Ballad Meter and Fourteeners, Amphibrachic Poems, Dipodic Poems, Poems in Sapphics and Alcaics, and Poems in Hendecasyllabics, Cretics, and Lesser Ionics.
This charming little book is both instructive and entertaining. And a must-read for aspiring poets.
randomhouse.com/everymans
everymanslibrary.co.uk
Find this review on Sonderbooks at: www.sonderbooks.com/Nonfiction/measure_for_measure.html
Disclosure: I am an Amazon Affiliate, and will earn a small percentage if you order a book on Amazon after clicking through from my site.
Source: This review is based on a library book from Fairfax County Public Library.
Disclaimer: I am a professional librarian, but I maintain my website and blogs on my own time. The views expressed are solely my own, and in no way represent the official views of my employer or of any committee or group of which I am part.
What did you think of this book?