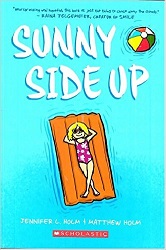 Sunny Side Up
by Jennifer L. Holm and Matthew Holm
with color by Lark Pien
Scholastic, 2015. 218 pages.
Starred Review
Here's a graphic novel from the authors of the ever-popular Babymouse. This one's a little more serious.
Set in August 1976, Sunny was looking forward to a family beach trip to finish off the summer – but instead she's been sent to stay with her grandpa in Florida. Florida shouldn't be so bad – It's the home of Disneyworld! But Gramps lives in a retirement community. All his friends are as old as he is.
Fortunately, there's one other kid at the retirement community, the son of the groundskeeper. He and Sunny start hanging out, doing things like finding lost cats and missing golf balls. But even better, he introduces Sunny to comic books.
But meanwhile, Sunny's remembering back to things that happened before she left home. Her older brother used to be a whole lot of fun, but he had been changing recently. Sunny tried to help – and it didn't end well. Is it her own fault she got sent away to Florida?
This is a fun and gentle story that lightly touches the issue of a family member with substance abuse. Mostly it's about a kid learning to have a lovely summer even in a retirement community. Sunny is a protagonist you can't help but love.
jenniferholm.com
matthewholm.net
larkpien.blogspot.com
scholastic.com
Find this review on Sonderbooks at: www.sonderbooks.com/Childrens_Fiction/sunny_side_up.html
Disclosure: I am an Amazon Affiliate, and will earn a small percentage if you order a book on Amazon after clicking through from my site.
Source: This review is based on a library book from Fairfax County Public Library.
Disclaimer: I am a professional librarian, but I maintain my website and blogs on my own time. The views expressed are solely my own, and in no way represent the official views of my employer or of any committee or group of which I am part.
What did you think of this book?