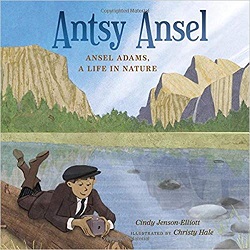 Antsy Ansel
Ansel Adams, a Life in Nature
by Cindy Jenson-Elliott
illustrated by Christy Hale
Christy Ottiaviano Books (Henry Holt and Company), 2016. 32 pages.
Here's a picture book biography of Ansel Adams, famed photographer, especially of our national parks. The language is simple, appropriate for younger elementary school students. But a lot of information is packed into these pages, with more in the notes at the back.
The author relates Ansel Adams' life to kids by telling us he was a child who could never sit still.
Indoors, Ansel felt trapped and sick. At school he got into trouble. Everyone thought they knew what he needed.

"Keep him calm," the doctor said, "away from light and sound." Ansel yearned for wind and waves.

"Give him discipline!" the principal said. Ansel felt like a fly buzzing inside a jar.

Ansel's father had a different idea. "Give him open air," he said. He took thirteen-year-old Ansel out of school and let him learn at home.
The first twenty-two of thirty-two pages are about Ansel's growing up years. Here's the entire text of a spread about the San Francisco world's fair, which Ansel visited every day (as we learn in the notes):
A season ticket to the San Francisco
world's fair filled Ansel's mind with
mysteries and marvels,
impressionists and organists,
flavors and aromas,
and fun and games.
Ansel was on fire for learning.
When Ansel was fourteen was when his family first visited Yosemite — and they gave Ansel a camera. I like the pages showing Ansel in Yosemite. The picture of Half Dome turns the book on its side to capture its tall majesty, as does a spread with a Sequoia.
So this book is a nice introduction to the story of a boy who loved to be outside and learned to make his living by staying outside and sharing the beauty he saw with others.
cindyjensonelliott.com
christyhale.com
mackids.com
Find this review on Sonderbooks at: www.sonderbooks.com/Childrens_Nonfiction/antsy_ansel.html
Disclosure: I am an Amazon Affiliate, and will earn a small percentage if you order a book on Amazon after clicking through from my site.
Source: This review is based on a library book from Fairfax County Public Library.
Disclaimer: I am a professional librarian, but I maintain my website and blogs on my own time. The views expressed are solely my own, and in no way represent the official views of my employer or of any committee or group of which I am part.
What did you think of this book?