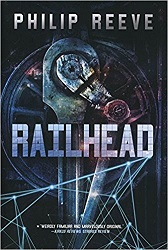 Railhead
by Philip Reeve
Switch Press (Capstone), 2016. 333 pages.
Starred Review
Here's brilliant and original world-building in a distant future science fiction novel.
When it begins, it almost sounds like your typical book about a street thief:
Listen . . .

He was running down Harmony when he heard it. Faint at first, but growing clearer, rising above the noises of the streets. Out in the dark, beyond the city, a siren voice was calling, lonely as the song of whales. It was the sound he had been waiting for. The Interstellar Express was thundering down the line from Golden Junction, and singing as it came.

He had an excuse to hurry now. He was not running away from a crime anymore, just running to catch a train. Just Zen Starling, a thin brown kid racing down Harmony Street with trouble in his eyes and stolen jewelry in the pocket of his coat, dancing his way through the random gaps that opened and closed in the crowds. The lines of lanterns strung between the old glass buildings lit his face as he looked back, looked back, checking for the drone that was hunting him.
In this distant future, humans live all over the universe. They travel between star systems on train lines that go through K-gates. The trains are sentient, their AI having developed so far. In fact, the gods of that time, the Guardians, started out as Artificial Intelligence long ago on earth.
Zen starts as a street thief, but a powerful man named Raven, hundreds of years old, wants Zen to steal something for him. He tells Zen that he's actually a member of the Noon family — the Imperial family. His mission is to go on the Noon train and steal a small object. Raven sends a Motorik named Nova along with Zen to get through firewalls and tell him what to do through Zen's headset.
It's not an exaggeration to say that Zen stealing this thing will change the fate of the galaxy.
Not all the characters in this book are human, but they're all recognizable personalities. When I finished, I was amazed at how the world, as wild as it seems, had absorbed my interest without pulling me out by implausibilities. It's easy to extrapolate to this world from today's technology. Everyone has access to the Datasea made from the interlinked internets of all the inhabited worlds. The various AI technology can access this swiftly.
I liked some of the names of the intelligent locomotives. They choose their names "from the deep archives of the Datasea." There are some bizarre names like Gentlemen Take Polaroids and some more traditional like Damask Rose.
This could well be Book One of a series. But it may also be a stand-alone. While there is much room for further adventures in this well-developed world, the adventure comes to a satisfying conclusion. I would love to read more.
Zen's sister calls him a railhead, and he guesses she's right:
He didn't make these journeys up and down the line simply to steal things, he made them because he loved the changing views, the roaring blackness of the tunnels, and the flicker of the gates. And best of all he loved the trains, the great locomotives, each one different, some stern, some friendly, but all driven by the same deep joy that he felt at riding the rails.
This book shows that deep joy, along with galaxy-shaking adventure. You'll meet creatures that make you rethink sentience. (Uncle Bugs is just plain creepy!)
Sentient trains that travel the galaxy. It's a wildly imaginative scenario — and Philip Reeve pulls it off.
Find this review on Sonderbooks at: www.sonderbooks.com/Teens/railhead.html
Disclosure: I am an Amazon Affiliate, and will earn a small percentage if you order a book on Amazon after clicking through from my site.
Source: This review is based on a library book from Fairfax County Public Library.
Disclaimer: I am a professional librarian, but I maintain my website and blogs on my own time. The views expressed are solely my own, and in no way represent the official views of my employer or of any committee or group of which I am part.
What did you think of this book?