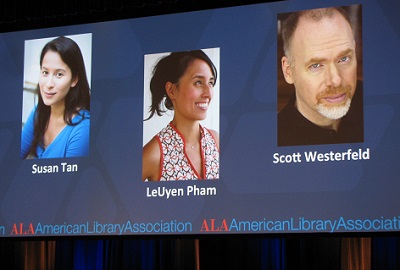 This morning I had the privilege of listening to an author interview in the big auditorium at ALA Midwinter 17 moderated by Dan Kraus, featuring Scott Westerfeld, LeUyen Pham, and Susan Tan, who all have new books coming out soon.  He began by asking them about their new books.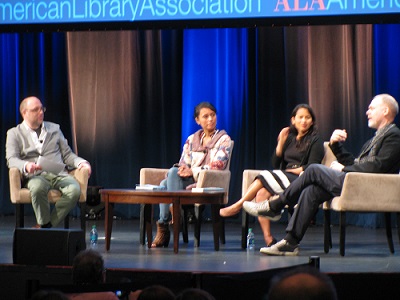 LP:  Real Friends is a graphic novel memoir written by Shannon Hale. It's her story about her first group of friends.  After you read it, you realize the same thing happened to you.  She captures the pain of what happens whe you get ousted from your group.  It's about very young friendships, but complete with all the emotion of that, and feels universal.
ST – Her debut novel is Cilla Lee Jenkins, Future Author Extraordinaire.  Her protagonist is growing up in a mixed race family, just like the author.  She's 8 1/2 years old and getting a new sister.  She's asked "what are you?" Because of being mixed race, and decides that what she is is a best-selling novelist.  She decides to write her novel before the baby is born so her parents can't forget about her.
SW – His new book is a graphic novel named Spill Zone.  It's about a 19-year-old raising her 10-year-old sister.  Their town was destroyed in a disaster no one understands.  He was into climbing buildings and urban exploration in college.  Those spaces are natural places to think about loss and about life.  He started it in 2006, after the tsunami when he realized the drama in having your home town disappear.
LP:  All three books are about sisters.
ST:  Working with the illustrator shaped the novel.  The illustrator found the heart of the scenes, sometimes in a way the author hadn't realized.
LP:  Writing a graphic novel, especially a memoir, is trickier than writing a picture book and needs a lot more interaction with the author.  She usually strips out the art notes first, but does send the writer editing notes.  It's like choreography.  A graphic novel gives you the perspectives of more characters.  And the faces of the characters make a big difference in the emotions conveyed.
SW:  The graphic novel gives you the ability to easily jump in and out of different points of view.  But you can still be inside someone's head. Teenagers have lots of investment in reading to become another person.
ST:  Her book is in first person, but there's lots of misunderstanding that the reader can see, and the illustrations helped with that.  It's a child's confrontation with a larger world.
SW:. Kids are still learning how Point of View works.  For them, books are a machine for becoming another person.
LP:  Writing a graphic novel with her husband when she was pregnant was good practice for parenting.  They had to learn to tell a story together.
They talked about working with an illustrator.
SW:  It's not good in a movie when character's say, "He's getting away!" There's a balance on when the pictures can and should do the work of telling the story.
Moderator:. All three of these books are earnest, without irony and sarcasm.
ST:  It was important to her to write a confident and exuberant character.  She wanted to capture her indomitable spirit without diminishing it.  Some day, this girl's deep self-confidence will get shaken…
SW:  Good books for children don't minimize the pain of being a kid and the pain of making choices.
On Diversity:
SW:  The explosion of the popularity of manga did a great thing for graphic novels.  They even have a different way of telling stories.  Kids are good at reading through difference and reading diversely.
Audience question:  All 3 books are about sisters.  Did you have relationships you pulled from?
LP & ST: Yes
SW:  He has an older sister who's bad-ass and does real spelunking.  The artist did a great job making his character look like a knight.  She's more overwhelmed by having to be a parent than by the monsters in the spill zone.  She's bad-ass like his sister.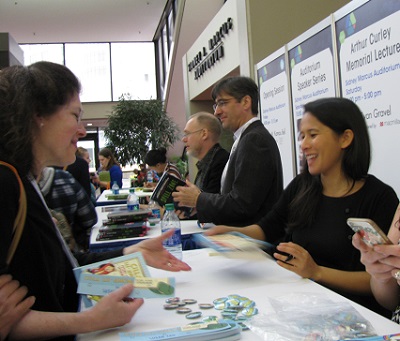 After that, we stood in line to get advance copies of all three books signed.  LeUyen Pham drew a picture of the person getting it signed! (Or she substituted a picture of Shannon.)  As usual, I met some great librarians for youth in the line.
Another inspiring session that gave me insight on the process of creating a children's book and got me excited about three upcoming titles.