The announcement of the winners of the Youth Media Awards is without question the highlight of every ALA Midwinter Meeting.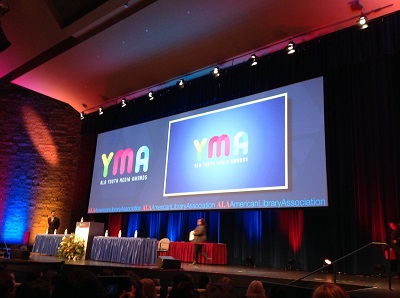 You get up early to get a place in line. The doors open at 7:30 am for the 8:00 announcements. I found a friend and sat right behind the committees. (I like that I have good friends whom I only see at ALA events. It shows that these really are my people.)
When waiting in line, you exchange hopes with others. What do you think will win the Newbery? The Caldecott? Nobody I talked with mentioned what did happen.
Now, if I were a serious campaigner (and an extrovert), this would have been an ideal time to go up and down the line passing out my "Sondy for Newbery!" cards, asking for votes for the 2019 Newbery committee. As it was, I did give it to people I was near in line and sitting near, but all people I actually then spoke with. I even met someone at the airport who was on the current Caldecott committee! And this initiated some great conversations. I'm quite sure I wouldn't have been so bold as to meet so many strangers if I hadn't had this to introduce myself. (And I definitely needed some Introvert Time when I got home!) But it felt great to meet so many people who also love children's books.
Here's the crowd ready for the announcements to start!
Then the announcement of the awards began, with lots of surprises.
My friend Susan Kusel has pointed out the many striking things about the awards this year.
What I noticed was the March Madness — March: Book Three won an unprecedented four awards — The Coretta Scott King Author Award, the YALSA Excellence in Nonfiction Award, the Printz Award, and the Sibert Award! Not an Honor in any of them, but the award. Moreover, the event was happening in Atlanta, in the heart of John Lewis's congressional district. The crowd was thrilled.
My only sad thing was that I'd hoped for some kind of award for the book Some Writer!, by Melissa Sweet — probably the Sibert, but maybe even Newbery or Caldecott Honor. Anyway, she's been honored before, and I sure don't begrudge John Lewis the Sibert.
Sadly, even though I read and loved March: Book One, I still have not read Book Two or Book Three! This is going to be remedied, especially now that I have a signed copy! (More on that in my next post.)
I also haven't read the Newbery winner, The Girl Who Drank the Moon, but I have proof that I was meaning to — I've got it checked out! I'm going to start reading it tonight!
So I'm just going to mention which of my Sonderbooks Stand-outs did win something. (Of course, the reason I read The War That Saved My Life was because of the awards it won last year.)
Sachiko, by Caren Stilson, won a Sibert Honor (for children's nonfiction).
Another Sibert Honor went to a book I liked very much, We Will Not Be Silent, by Russell Freedman.
Newbery Honor went to two of my Stand-outs: The Inquisitor's Tale, by Adam Gidwitz and Wolf Hollow, by Lauren Wolk. I'm super happy about those. (Someone I talked with in the line really wanted Wolf Hollow to win because it's one of those rare children's books with two parents who are great role-models.)
The audiobook version of Anna and the Swallow Man, which I have yet to listen to but have on hold, won the Odyssey Award for best recording of a children's or young adult book.
And my favorite young adult novel I read all year, The Passion of Dolssa, by Julie Berry, won a Printz Honor. Yay! I hope I'll get to go to the Printz Awards this year and hear her speech!
It was fun to go through the Exhibit Hall after the awards ceremony and take pictures of the books with their new stickers!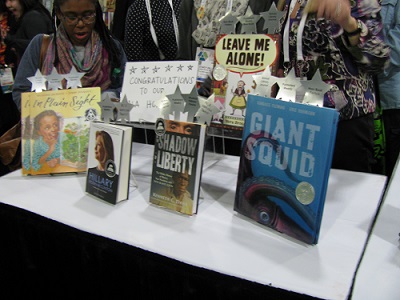 I hadn't realized until I saw their booth that Little, Brown, has published the Caldecott Medal winner for three years in a row!