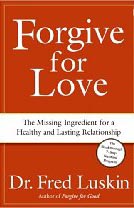 Forgive for Love
The Missing Ingredient for a Healthy and Lasting Relationship
by Dr. Fred Luskin
HarperOne, 2007.  234 pages.
Starred Review.
http://www.learningtoforgive.com/
After my husband left me, I did a lot of reading about forgiveness.  What do you do when your life falls apart?  Well, I look to books to help.
Of all the books I read about forgiveness, the one that made a breakthrough for me in helping me actually DO it (instead of just thinking about doing in) was Dr. Luskin's earlier book, Forgive for Good.  (http://www.sonderbooks.com/Nonfiction/forgive_for_good.html)
The key thought that helped me was this:  This person has already hurt me.  Why in the world should I give them power to continue to hurt me by brooding over that hurt?  And he has some practical tips to help you get your mind away from all the ways you were wronged.
I thought that book was so outstanding, when I learned that Dr. Luskin had written a book about forgiving in the context of romantic relationships, I knew I had to read it.
So much of this book rang true for me, quotes from it fill up five pages of my Sonderquotes blog (http://sonderbooks.com/sonderquotes/?s=luskin+forgive+love).
I have come to believe, along with Dr. Luskin, that forgiveness is the essential key to a lasting marriage.
"Think about it.  The centrality of commitment in relationships is expressed through the marriage vows, which ask us to love our partners through richer and poorer, in sickness and in health, and for better and for worse until death.  That means that we promise to love them when they are not doing well, when they have failed, when life is not exactly turning out as hoped, or when we're going through a financial reversal.  What I see in the marriage vows is a basic prescription:  if we want our relationships to last, we better be prepared to forgive."
But Dr. Luskin doesn't only tell us we should forgive, he also shows us how.  This book is full of wise and practical tips toward becoming a better forgiver, and thus a better lover.
As he says in the final chapter, "Both the good news and the bad news about being in a relationship is that you will get many opportunities to practice forgiveness."
Find this review on the main site at: