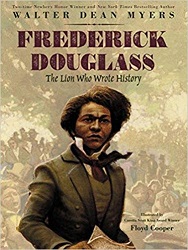 Frederick Douglass
The Lion Who Wrote History
by Walter Dean Myers
illustrated by Floyd Cooper
Harper, 2017. 36 pages.
Starred Review
This is a picture book biography of Frederick Douglass. It highlights his decisions to learn to read and later to escape slavery. I like this paragraph.
Frederick listened carefully to the Auld children. They spoke clearly and directly, and he knew that it was because they had also read the words they used. He felt that reading could make a difference in how a person lived.
Years later, abolitionists had Frederick speak at their meetings, and crowds were impressed. This fits with what Trevor Noah says in his book Born a Crime about how the way you speak strongly influences how people relate to you. Frederick Douglass didn't sound like a slave, in his speech or in his writings. That challenged people's assumptions.
Walter Dean Myers makes the point that Frederick Douglass gained so much influence, his voice became a lion's roar.
The careful and wise decisions made by Frederick Douglass – to learn to read, to escape from slavery, to speak out for justice for all Americans, and to aid the Union Army – had helped to write American history.
walterdeanmyers.net
harpercollinschildrens.com
Find this review on Sonderbooks at: www.sonderbooks.com/Childrens_Nonfiction/frederick_douglass_the_lion.html
Disclosure: I am an Amazon Affiliate, and will earn a small percentage if you order a book on Amazon after clicking through from my site.
Source: This review is based on a library book from Fairfax County Public Library.
Disclaimer: I am a professional librarian, but I maintain my website and blogs on my own time. The views expressed are solely my own, and in no way represent the official views of my employer or of any committee or group of which I am part.
What did you think of this book?