It's time for Sonderling Sunday! That time of the week when I play with language by looking at the German translation of children's books.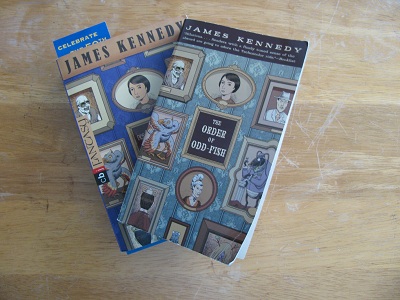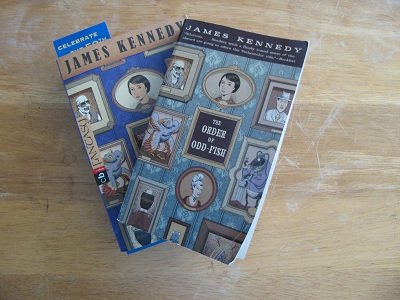 Tonight we're back to the most Sonder book of them all, Der Orden der Seltsamen Sonderlinge, which is the translation of The Order of Odd-fish, by James Kennedy.
Last time, I did a short post, beginning Chapter 22 with Jo getting ready for Desolation Day. I do my best not to post any spoilers, but I do hope readers of my blog will be intrigued to ask What sort of book would use these fascinating phrases? Pick up a copy!
But in the meantime, let's take a look at the first sentence of the next section, to set the stage:
"The night before Desolation Day, Jo, Ian, and Nora huddled from the rain under an awning in East Squeamings, waiting to be picked up by the Wormbeards.
= Am Vorabend des Tages der Verwüstung drängten sich Jo, Ian und Nora unter eine Markise in Ost-Heikel, wo sie darauf warteten, von den Wurmbärten abgeholt zu werden.
"sodden" = überschwemmtes
"put away" = beiseitegeschafft ("aside-made")
I dare you to find a reason to say this:
"torn apart by lizard-dogs"
= von diesen Echsenhunden zerfetzt zu werden
"a quiet satisfaction" = eine stille Befriedigung
"a calculated insult" = eine wohlüberlegte Beleidigung ("a well-considered insult")
"glowing fungi" = schimmernden Pilze
"stale, spicy air" = abgestandene, würzige Luft
"covered with minutely detailed carvings"
= mit peinlichst genau gearbeiteten Steinmetzarbeiten verziert
"the tree's bark" = die Rinde des Baumes
This is fun to say:
"between the branches" = zwischen den Zweigen
"simmering in this cauldron of dishonor"
= siedend in diesem Kessel der Ehrlosigkeit
"trickery" = Hinterlist
"trickled" = tröpfelten
"chunky boulders" = klobigen Felsbrocken
"well-tended little groves" = gut gepflegten kleinen Hainen
"spacious" = geräumig
"slum" = Baracke
"sculptor" = Bildhauerin
"Fiona's studio was a large concrete bunker smelling of plaster and clay and paint."
= Fionas Atelier war ein großer Betonbunker, in dem es nach Gips, Lehm und Farbe roch.
"throwing wheels" = Wurfscheiben
"found objects" = offenbar zusammengesammelten Objekten
"furnace" = Hochofen
"goo" = klebriges Zeug
"bubbled" = blubberte
"idol" = Götzenbild
"a lumpy, bulging grotesque tower" = ein plumper, praller, grotesker Turm
"fins and scales" = Flossen und Schuppen
"viciously clashing colors" = beißenden Farben
("biting colors")
"shrunken" = geschrumpft
Try to say this!
"grafted on" = aufgepfropft
"tangled hair" = verfilztes Haar
"a shambling, snarling, unclean beast"
= eine watschelnde, zähnefletschende, unreine Bestie
"sketches" = Skizzen
"tempting" = verlockend
"addition" = Ergänzung
Just what you wanted to know how to say in German:
"earlobe" = Ohrläppchen
"scrambling" = taumelte
"stumbling down the hallway" = schwankte durch den Flur
"moan" = Fauchen
That's all for tonight! I got eine stille Befriedigung from doing Sonderling Sunday again!
Bis Bald!