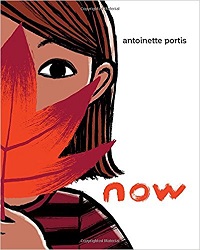 Now
by Antoinette Portis
A Neal Porter Book, Roaring Brook Press, 2017. 32 pages.
Starred Review
I've said before that some of the best sermons are found in children's books. This book speaks loads about contentment and joy and living in the present.
Here's how it begins:
This is my favorite breeze.

This is my favorite leaf.

This is my favorite hole
(this one)
because it is the one
I am digging.
And that's how it continues. The simple yet beautiful pictures (I love the way she draws the breeze!) show a girl with light brown skin enjoying each favorite thing on a double-page spread.
The one variation is when her boat goes into the storm drain, and we read, "That was my favorite boat." No sadness or crying, just enjoying this moment.
The book winds up like this:
And this is my favorite
now
because it is the one I am having

with you.
The final picture is of the girl in her mother's lap reading a book, so there's a nice self-referential element.
This book just makes me smile!
And the next time I go for a walk around my lake, I'm going to be saying things to myself like:
This is my favorite breeze.
That is my favorite flower.
That is my favorite bird….
What a lovely concept to share with children!
Find this review on Sonderbooks at: www.sonderbooks.com/Picture_Books/now.html
Disclosure: I am an Amazon Affiliate, and will earn a small percentage if you order a book on Amazon after clicking through from my site.
Source: This review is based on a library book from Fairfax County Public Library.
Disclaimer: I am a professional librarian, but I maintain my website and blogs on my own time. The views expressed are solely my own, and in no way represent the official views of my employer or of any committee or group of which I am part.
What did you think of this book?