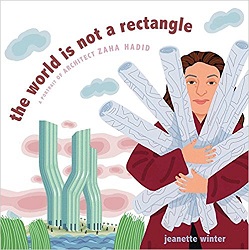 The World Is Not a Rectangle
A Portrait of Architect Zaha Hadid
by Jeanette Winter
Beach Lane Books (Simon & Schuster), 2017. 56 pages.
Starred Review
This is a simple but brilliant picture book biography about Zaha Hadid, an architect I'd never heard of, who was an Arab and a woman and who designed buildings located all over the world.
Zaha was born in Iraq in 1950. The book simply shows how she got inspiration from nature.
When she grew up, she ventured away from her country and studied in London. She submitted designs in many competitions. When she was finally selected, the city commission refused to build it.
But Zaha continued, and the pictures show buildings she designed located all over the world – the pictures place them alongside the landscapes and natural objects that inspired them.
Zaha died in 2016, but her designs are still being built. End notes tell where each featured building is located.
Jeanette Winter doesn't waste words, but she tells the story of a woman who added beauty to the world. And she tells it in a way I won't soon forget.
Find this review on Sonderbooks at: www.sonderbooks.com/Childrens_Nonfiction/world_is_not_a_rectangle.html
Disclosure: I am an Amazon Affiliate, and will earn a small percentage if you order a book on Amazon after clicking through from my site.
Source: This review is based on a library book from Fairfax County Public Library.
Disclaimer: I am a professional librarian, but I maintain my website and blogs on my own time. The views expressed are solely my own, and in no way represent the official views of my employer or of any committee or group of which I am part.
What did you think of this book?