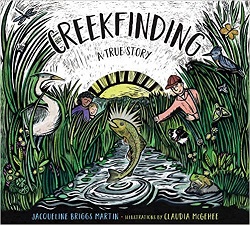 Creekfinding
A True Story
by Jacqueline Briggs Martin
illustrations by Claudia McGehee
University of Minnesota Press, 2017. 40 pages.
Starred Review
This picture book tells the true story of restoring a lost creek.
How can a creek be lost? Years before, a farmer had used a bulldozer to fill the creek with dirt, so he could turn the prairie into a cornfield – growing corn where the creek used to be.
A man named Mike Osterholm bought the farm and planned to restore the prairie. Then a neighbor told Mike that he used to catch brook trout at that very spot. Mike set to work to restore the creek.
The book shows the many steps this took. He started with old photographs to mark out where the creek had been. Then he used a bulldozer and an excavator to dig a path for the creek.
Mike said the water remembered.
It seeped in from the sides,
raced down the riffles and runs,
burbled into holes, filled the creek.

But a creek isn't just water.
It's plants, rocks, bugs, fish, and birds.
The book goes on to explain how they got each of those ingredients into the restored creek.
It took years to restore the creek, but now:
If you went to the creek with Mike,
you'd see water.

But a creek isn't just water.
You'd see brook trout and sculpin.
You'd hear the outdoor orchestra –
herons, snipe,
bluebirds, yellowthroat warblers;
frogs, returned home;
and insects –
thousands, and thousands,
and thousands of insects.
Now a new generation can catch trout on Brook Creek – and a new host of creatures has a home.
The art in this book is amazing and evocative of the prairie. The illustrator's note at the back is poetic:
One hot July afternoon, I visited Prairie Song Farm, home to Brook Creek, to gather images and impressions for this book's illustrations. As I waded into the deep greenness, all sorts of creatures – winged, scaled, feathered and furred – bustled in the grasses and along the water banks. I wanted to re-create the textures and colors I saw, so readers could "walk" alongside Brook Creek as they learned about its restoration. I made the ripply, sturdy lines of earth, water, and sky in scratchboard and painted the prairie greens, creek blues, and everything in between with watercolors and dyes.
Because of the simple language and picture book format, young children can enjoy this book. But older children will get even more out of the story and learn many things about creatures, creeks, and prairies.
Find this review on Sonderbooks at: www.sonderbooks.com/Childrens_Nonfiction/creekfinding.html
Disclosure: I am an Amazon Affiliate, and will earn a small percentage if you order a book on Amazon after clicking through from my site.
Source: This review is based on a library book from Fairfax County Public Library.
Disclaimer: I am a professional librarian, but I maintain my website and blogs on my own time. The views expressed are solely my own, and in no way represent the official views of my employer or of any committee or group of which I am part.
What did you think of this book?