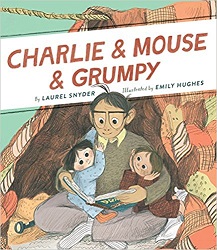 Charlie & Mouse & Grumpy
by Laurel Snyder
illustrated by Emily Hughes
Chronicle Books, 2017. 36 pages.
Starred Review
It's another beginning chapter book about Charlie and his little brother Mouse. In this book their grandfather, Grumpy, comes to visit.
This book hits just the right note, telling about interactions of the boys with Grumpy. There are four short stories. The parents don't come into it at all (except being referred to a bit), but each story is strictly between the boys and Grumpy.
My favorite story is "Pouncing." Here's how it begins:
Charlie woke up.
Mouse woke up.
"Grumpy is here!" said Charlie.
"Should we pounce him?" asked Mouse.
"Of course!" said Charlie.
They snuck downstairs.

Grumpy was in the kitchen.
Grumpy was drinking coffee.

Mouse looked sad.
"Why are you sad?" Grumpy asked Mouse.
"We wanted to pounce you," said Mouse.
"So pounce me!" said Grumpy.
"We can only pounce
when you are sleeping,"
said Charlie.
"It is a rule," said Mouse.
"That makes sense," said Grumpy. "But you will have to get up very early to catch me sleeping."
As the story continues, Grumpy "rests his eyes" and his nose begins to snore. I like that the author doesn't tell us what the boys decide to do. We know what will happen!
There's all kinds of charm in these stories. They're suitable for a beginning reader to read themselves or for a young one to listen and enjoy. Grandparents will especially enjoy reading these to their grandchildren.
laurelsnyder.com
chroniclekids.com
Find this review on Sonderbooks at: www.sonderbooks.com/Picture_Books/charlie_and_mouse_and_grumpy.html
Disclosure: I am an Amazon Affiliate, and will earn a small percentage if you order a book on Amazon after clicking through from my site.
Source: This review is based on a library book from Fairfax County Public Library.
Disclaimer: I am a professional librarian, but I maintain my website and blogs on my own time. The views expressed are solely my own, and in no way represent the official views of my employer or of any committee or group of which I am part.
What did you think of this book?