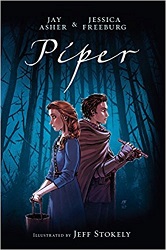 Piper
by Jay Asher & Jessica Freeburg
illustrated by Jeff Stokely
Razorbill (Penguin Random House), 2017. 144 pages.
Starred Review
This gorgeous graphic novel turns the story of the Pied Piper of Hameln into a tragic romance.
It's also a story of prejudice and greed – but with love rising above that. And we find out that the real story isn't the one we've heard.
This version of the story features a deaf teen girl named Maggie who lives in Hameln with an old woman, something of an outcast. She can read lips and talks with the piper, a handsome teen himself. She learns his story, as no one else does.
Maggie enjoys writing stories with her caretaker, an old woman named Agathe. She writes the stories of the villagers the way they should be told.
Did the villagers deserve what they got from the Piper? What if the revenge the Piper took was different than the story we've heard?
This book is a quick read but a haunting and poignant tale. The ending especially will surprise you.
Find this review on Sonderbooks at: www.sonderbooks.com/Teens/piper.html
Disclosure: I am an Amazon Affiliate, and will earn a small percentage if you order a book on Amazon after clicking through from my site.
Source: This review is based on a library book from Fairfax County Public Library.
Disclaimer: I am a professional librarian, but I maintain my website and blogs on my own time. The views expressed are solely my own, and in no way represent the official views of my employer or of any committee or group of which I am part.
What did you think of this book?