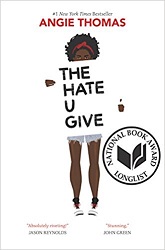 The Hate U Give
by Angie Thomas
performed by Bahni Turpin
HarperCollins Publishers, 2017. 11¾ hours on 10 compact discs.
Starred Review
Wow. This debut novel packs a big punch.
Starr Carter lives in two lives. There's Garden Heights, where she lives and where her dad runs a store, where gangs fight over territory and they hear gunshots at night. And then there's the world of Williamson, the private school in the suburbs that she attends, where she is one of two white people in the junior class.
Starr goes to a party in her neighborhood and gets a ride home with Khalil, a childhood friend she hasn't seen in a while. But a policeman pulls him over for a broken tail light and doesn't like Khalil's attitude. After the cop pulls him out of the car and tells him to hold still, Khalil opens the car door to ask Starr if she's okay – and the policeman shoots Khalil three times. He dies before Starr's eyes.
The book is about Starr's reaction to that and the many repercussions. Right away, the news starts portraying Khalil as a gang member and a drug dealer and a thug – as if that means he deserves to die. She doesn't want anyone to know she was the witness – but her friends at Williamson don't understand why this incident has affected her so much.
The story continues through the grand jury decision about whether the policeman should be prosecuted – and the reaction in Garden Heights.
I was deeply moved by this book – and could begin to imagine what it would be like to have a friend die in front of me – in a way that a news story alone doesn't bring home, with all its implications.
Listening to this book was a good way to enjoy it. I liked hearing the narrator use a different voice when Starr was talking in Garden Heights as opposed to when she was among her white friends, taking care to speak precisely and properly. This isn't family listening unless your whole family doesn't mind hearing a lot of profanity – It's appropriate and also helps set the scene, but do be aware it's there.
The book is long, and a bit repetitive in spots, but I'm a lot more patient with that when I'm listening, since I'm in the car anyway. I was glad when I had an extra-long drive toward the end, because I wanted to hear more of this amazing book.
And yes, lives like Khalil's – and all the actual young men he represents – do matter. If he didn't live a perfect life, that doesn't make it okay to shoot him when he was unarmed and no threat. This book brings that message home – with a story and characters who will pull you in and make you care.
angiethomas.com
harperaudio.com
Find this review on Sonderbooks at: www.sonderbooks.com/Teens/hate_u_give.html
Disclosure: I am an Amazon Affiliate, and will earn a small percentage if you order a book on Amazon after clicking through from my site.
Source: This review is based on a library audiobook from Fairfax County Public Library.
Disclaimer: I am a professional librarian, but I maintain my website and blogs on my own time. The views expressed are solely my own, and in no way represent the official views of my employer or of any committee or group of which I am part.
What did you think of this book?