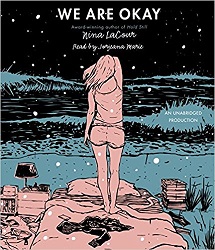 We Are Okay
by Nina LaCour
read by Joyeana Marie
Listening Library, 2017. 5.5 hours on 5 compact discs.
Starred Review
2018 Printz Medal Winner
While I'm reading for the Newbery, I'm trying not to listen to any audio versions of eligible books – since we don't want to bias our opinions by good or bad readers. This leaves my commute time open to listen to the award winners from last year that I didn't get read.
We Are Okay begins with Marin saying good-by to her roommate for Christmas break. She's about to be the only person in the dorm for a few weeks – in a cold part of upstate New York. But she's expecting a visitor – Mabel, her long time friend, has told Marin that she's coming – and didn't give her a chance to refuse the visit.
We gradually find out why Marin is there alone, why she would plan to be all by herself when everyone else has gone to visit family. We learn what happened to Gramps, whom she used to live with. We learn that Marin ignored hundreds of texts from Mabel – but that now Mabel has come to see her anyway.
Once there, the girls get caught in a snowstorm that puts the power out, but they aren't in danger, since the groundskeeper, who was meant to keep an eye on Marin, helps them out. Something about the snow and the situation help Marin start to open up about what happened.
We also find out that Marin and Mabel were more than friends. The memories of that aspect of their relationship are woven into all the feelings about Marin's disappearance and Mabel's search for her. (I always feel I should warn audiobook listeners that there are some sexy times. Why is it more embarrassing to listen to sexy passages than to read about them? Well, at least you wouldn't want anyone else to be in the car.)
When I was almost to the end of this audiobook, I had almost decided that the whole book was far, far too sad. That I would not be able to recommend it because the situation Marin had come through was almost too much to bear.
However, to my surprise, the author pulled off a happy, tear-jerking ending. With just the right touch, she brings great big hope despite and even because of all that went before. By the time I finished, I'm a huge fan of this book – a tender and compassionate story about fragile people and family and belonging.
Just beautiful.
ninalacour.com
listeninglibrary.com
Find this review on Sonderbooks at: www.sonderbooks.com/Teens/we_are_okay.html
Disclosure: I am an Amazon Affiliate, and will earn a small percentage if you order a book on Amazon after clicking through from my site.
Source: This review is based on a library audiobook from Fairfax County Public Library.
Disclaimer: I am a professional librarian, but I maintain my website and blogs on my own time. The views expressed are solely my own, and in no way represent the official views of my employer or of any committee or group of which I am part.
What did you think of this book?