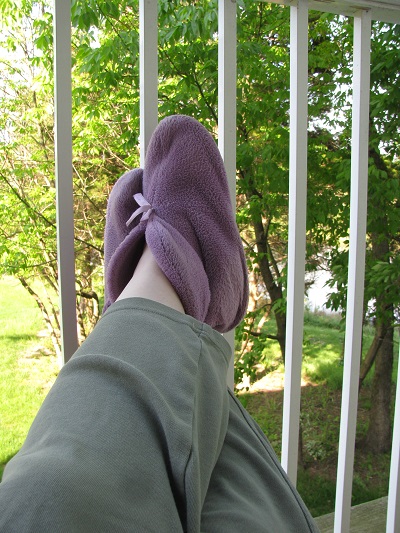 This is me, reading on my balcony.
It's the middle of the year, and the number of books I'd *like* to have read is exploding. But I am making lots of time to read out on my balcony.
In fact, just tonight I realized I'd spent an hour reading the start of a book by a British author – and therefore not eligible! Ouch!
But of eligible books, so far I have read:
127 Middle Grade books, 15 of those not finished, for a total of 27,331 pages.
40 books for Young Adults, 4 of those not finished, for a total of 11,882 pages.
267 picture books, for a total of 10,038 pages.
Grand totals are 434 books (19 not finished), for a total of 49,251 pages. Should hit 50,000 in a day or two!
From publishers, I have already received 273 books. 8 arrived tonight.
Where the Newbery committee is in the process is that we're all reading madly and Suggesting books to the committee each month. The first two months, I'd read most of the suggested books, but the May suggestion list had 7 I hadn't read. All committee members will read all suggested books.
We're meeting for our first mandatory meeting ten days from now in New Orleans at ALA Annual Conference! Each committee member (except the chair) is going to present one book for practice discussion – so right there are 14 books I'd like to reread in the next week. (It probably won't happen.)
I've decided for this round of rereading, I'm going to read only a few chapters at a time (maybe a half-hour) and do this at home and take copious notes. I'll still keep first-time reading as my pleasure reading and write a review as my first impression (to post after the Newbery).
The stress of not reading as many books as I'd like to have read is good stress! I'm trying to make peace with it – When I was a Cybils judge we kept track of our page and book counts and I was usually in the middle of the pack. Some will read more than me and some will read fewer. I'm going to try to remember to enjoy the process.
I have to say that tonight when I began my rereading (No, I won't get nearly all 14 re-read. But I will re-read the nominated books before January's meeting – this is just practice.) – I was delighted with how many things I noticed just in the first chapter – things about the craft of the book. It's true what former committee members say – you do examine the book more closely when you're on the committee. I'm only beginning to get a taste of that. (And the book I was rereading tonight is one I'd already read twice. But taking notes while I read is helping.)
Anyway, I'm still scheming how I'm going to manage to take some time off to read during our busy summer. But I'm hoping for the best! And I'm trying to be more disciplined about spending 7 to 9 reading every day.
Tomorrow we finish Booktalking for this year in the local elementary schools. And it was all the better this year because I'd read so very many children's books. I didn't get at all bored with repeating the same books over and over – because I have a lot of great books to choose from.
The year is only half over, but let no one say that this is not a good year for Newbery eligible books. I am already sure: We're going to pick a good one!