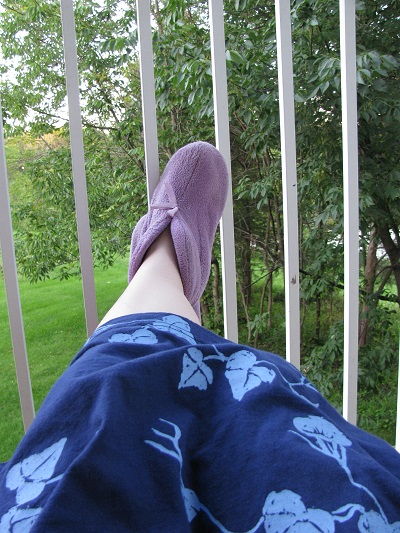 I finished my 24-Hour Book Blitz! And yes, some of that reading was done out on my balcony, even though it was a hot day for it.
My time stats are that I did manage to use more than half the time for book-related activities, a total of 13 hours and 50 minutes.
I spent 8 hours, 50 minutes reading,
1 hour, 15 minutes blogging (counting my Starting Line post and posting Sonderquotes last night),
2 hours, 15 minutes writing reviews,
and 1 hour, 30 minutes "housekeeping" — entering data into spreadsheets. This last included recording all the books I received from publishers in the last week — my grand total of books received is now 438 books.
As for what I got done, I finished reading 10 books and read 2 partial books. Most of the books I read were quite short, but the total was 1,305 pages read. (And remember that all pages are not created equal.)
I wrote 3,256 words.
I discovered that some books were missing from my spreadsheet when I wrote the Starting Line post, and my Picture Book worksheet wasn't totaling all the pages. But these new totals should be correct for all the Newbery-eligible reading I've done so far:
196 Middle Grade Books (20 of those not finished) — 42,008 pages
53 Young Adult Books (7 not finished) — 14,924 pages
400 Picture Books (400 even!) — 14,935 pages.
Grand total: 622 finished books, and 71,867 pages.
It's always fun to spend a day reading, though I didn't really hit on treasures this time. I read a lot of short books, thinking I'd have time to write reviews — but didn't get many reviews written. I now have a stack of 9 books to review (up from the 5 or 6 I started with), which I hope I can get to tonight before I do more reading.
Still, it feels good to mostly use my time off well — and I love that reading is using my time well! How lucky am I?
My next Book Blitz I hope will be Columbus Day, and the weekend after, I'm taking a 4-day weekend away for a reading retreat. Meanwhile, happy reading!