Last Friday, March 29, I got to attend the Walter Awards at the Library of Congress in Washington, DC. The Walter Awards are sponsored by WeNeedDiverseBooks.org and named in honor of Walter Dean Myers. A Symposium was held in the morning featuring the Honor Award winners, and the awards were presented after a coffee break.
Ellen Oh spoke first. She was the one who began WeNeedDiverseBooks with a hashtag on twitter five years ago. Since then, they incorporated, and have distributed all the benefits I mentioned in the first post, and this is the fourth year of the Walter Awards.
It's not just about seeing ourselves. It's also about reading the stories of others. It's about building empathy in children. They need books that accurately reflect the world they live in.
The first year of the Walter Awards, they had 50 submissions. This year, there were 244 submissions. They are proud of the good work they are doing!
The executive director of WNDB, Nicole Johnson, spoke next. Their authors are saying, "We see you!"
The emcee for the awards was Linda Sue Park. She first told a story about Walter Dean Myers. He listened to her when she wanted to make a difference. When she floated the idea of internships in publishing, he told her that was the right track. For the next few years, she talked about internships to anyone who would listen. Now she's the honorary chair of the internship program. "We're doing it, Walter!"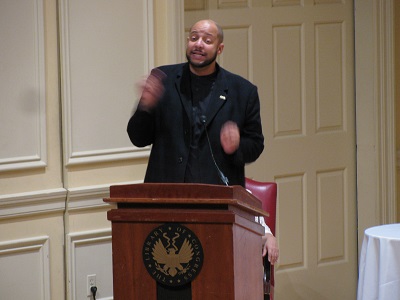 Chris Myers spoke next, in honor of his father. He said it's nice to hear so many nice things about his dad and almost makes him forget the other things! Chris told about a trip he took to Papua New Guinea. When he got off the boat on a small island, the villagers were excited to see someone get off the boat who wasn't white.
They had no mirrors on the island or photos or electricity. He was struck by the immediacy of what he could do – he painted all the kids on the island. The universality of that problem struck him – we're all starved for images.
Then he talked about the group of us gathered in honor of diverse books. We're all Family. We've got characters and conflicts and cool uncles (Jason Reynolds). Five years in is a good time to note our common mission and conflicts. I know we're on the same side even if I don't like your approach to solving the problems.
But we're family. We need to have creative fights together. Our job is to say, "We can do better." This family has continuity.
We're on an island with few images. Sit there and draw every kid.
Thank you for keeping that continuity going.
Then it was time for the Awards! We'd already heard from the Honor authors in the Symposium panel, so they accepted their awards with applause. The Winners each gave an acceptance speech.
The Honor winners in the Younger Readers' category were David Bowles for They Call Me Güero and Veera Hiranandani for The Night Diary. The 2019 Walter Award winner for Younger Readers was Jewell Parker Rhodes for Ghost Boys.
Her editor Alvina Ling asked her to write this book. Her own child was growing and becoming more and more subject to racism. And images of Emmett Till have haunted her for 65 years, leaving a stew of passion in her heart.
Her other books were practice for this one. In fact, the adult books she's written were practice to get good enough to write for children.
This book nearly undid her. It took years and came out in bits and pieces. Who was her lodestar? Walter Dean Myers. His commitment to excellence shines. She got to meet him when she wrote her first book, Ninth Ward, and she fan-girled shamelessly. He inspired her to keep writing Ghost Boys.
She always thought Emmett Till was innocent, but she'd already written that scene of the book before the truth came out and the woman admitted that she'd lied. She told what had really happened, and Jewell was able to rewrite that scene.
Another change was made after the ARC was already printed – she realized she needed to add a beat that Carlos could also have been shot for playing with a toy gun.
Then she told us a secret: In 2014, her daughter had a baby and in the same year applied for a WNDB fellowship. Her book will be published next year! WNDB is changing the world.
She finished by saying, "Even if I never publish another book, this was the book I was meant to write."
Next came the presentation of the awards in the Teen category. Tiffany Jackson received an Honor for Monday's Not Coming, and Emily X. R. Pan received an Honor for The Astonishing Color of After. Elizabeth Acevedo was the 2019 Walter Award Winner in the Teen category for The Poet X.
Elizabeth Acevedo began her acceptance speech talking about when she was an 8th grade English teacher in a school with many African American kids and many Latinx kids. But she was the first Afri-Latinx teacher in a major subject at that school. She felt "simultaneously seen and invisible." It was at the intersection of many parts of her life.
She had to teach them how to love reading, because "if they love to read, they will figure it out."
The kids asked her, "Where are the books about us?" She provided all she could find. Then they asked, "What's next?"
That's what prompted her to write for young people. That was the spark. She wanted the kids to see themselves.
She read Walter Dean Myers and interned at the Library of Congress, so it feels like a homecoming to be in this space.
She was writing for young people in the first place, writing in secret, not knowing if anyone would read it. She worked on it for years.
Then in 2014, Walter Dean Myers wrote, "Where are the people of color in children's books?"
She is so honored to win this award. Those words emboldened her to keep writing. They told her there is room for her in publishing and a need for the stories she wants to tell. In another connection, her editor was also the editor of Walter Dean Myers for many years. Today's an arrival of sorts.
Write about people of all backgrounds.
Writing love onto the page is pivotal.
Writing can be healing – for the writer and the reader.
She wants to write characters as nuanced as the people she loves.
Onward!
***
After the Awards Ceremony, there was a book signing. Since I already had a copy of almost all the books from my year on the Newbery committee, I didn't purchase any more, but hung out behind the official photographers taking pictures of the awardees.
And, yes, I took a minute to introduce myself to Meg Medina, "our" Newbery Medal winner!