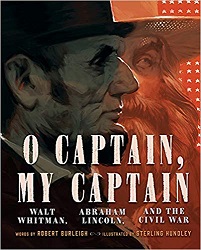 O Captain, My Captain
Walt Whitman, Abraham Lincoln, and the Civil War
by Robert Burleigh
illustrations by Sterling Hundley
Abrams Books for Young Readers, 2019. 64 pages.
Starred Review
Review written April 20, 2019, from a library book
I was going to pass over this book. I thought it was a simple picture book biography. As much as I loved the first ones I saw, I've gotten somewhat jaded about their simple approach to a person's life.
This goes into much more depth, and I was quickly pulled in. Although the format is the same size as a picture book, the book has twice as many pages, and there's much more text on each spread. This would be appropriate for upper elementary school, though even as an adult, I learned much about Walt Whitman and Abraham Lincoln and the Civil War, and the beautiful paintings enhanced the text.
Walt Whitman lived and worked the same time as Abraham Lincoln, and he ended up writing two tribute poems to Lincoln (included in the book). Most interesting was that even though he was already a famous poet, he lived in Washington during the Civil War and visited soldiers in the hospital there every day, helping and encouraging them. So he regularly saw President Lincoln passing by.
Each section of this book (usually one or two spreads) has a heading that is a quotation from Walt Whitman. There are twelve pages of back matter – you can see the author has done his research.
Simply to see this president, to catch a glimpse of his face, increasingly etched with suffering – "so awful ugly it becomes beautiful" – yet with a wry smile on occasion, was uplifting. Just to watch as the stiff figure, sitting motionless in the shadow of the carriage, passed by, gave Walt new energy. He felt Lincoln was giving his all, and beyond. How could Walt do less?
This book pulled me into the emotions of living out the Civil War in Washington in a way I hadn't experienced before.
robertburleigh.com
sterlinghundley.com
abramsyoungreaders.com
Find this review on Sonderbooks at: www.sonderbooks.com/Childrens_Nonfiction/o_captain_my_captain.html
Disclosure: I am an Amazon Affiliate, and will earn a small percentage if you order a book on Amazon after clicking through from my site.
Disclaimer: I am a professional librarian, but I maintain my website and blogs on my own time. The views expressed are solely my own, and in no way represent the official views of my employer or of any committee or group of which I am part.
What did you think of this book?