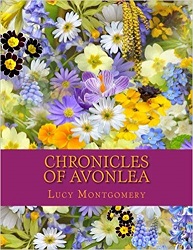 Chronicles of Avonlea
by L. M. Montgomery
Grosset & Dunlap, 1970. Originally published in 1912. 306 pages.
Starred Review
Review written July 6, 2019, from my own copy
In preparation for a trip to Prince Edward Island in September, I'm rereading all my L. M. Montgomery books in the order they were published. Chronicles of Avonlea is number five in this endeavor.
Maud Montgomery honed her craft by writing stories and getting them published in magazines. She did this for years before her first novel was published. This collection of stories gives wonderful examples of her brilliance. The only I quibble I have with them is that she was being pressured to write more about Anne of Green Gables – and mention of Anne Shirley is shoehorned into almost every single one of these stories. The only one where it's organic and Anne is an important part of the plot is the first one, "The Hurrying of Ludovic."
The most brilliant story of all in this collection is probably my favorite short story ever. I've done readings of this story when I was in college to entertain my friends and, yes, when I came to this story this time through, I was compelled to read the whole thing out loud.
That Most Delightful Story Ever is "The Quarantine at Alexander Abraham's," the story of a woman who hates men and her cat trapped in the home of a man who hates women and his dog. The woman, who is the narrator, does come off best – and both change their attitudes by the end. The process is all the fun and reading it in the narrator's voice saying, "I am noted for that" makes it utterly delightful.
Honestly, in this read-through, I'm constantly being shocked when I realize these older characters are now younger than me! Angelina Peter MacPherson is forty-eight years old in this story. In fact, many of the main characters in these stories are deep into adulthood. I'm going to file this book in with Teen Fiction, but really these are family stories. It's all innocent and G-rated, about life and love, but there's a lot of focus on older folks coming to understand whom they truly love, whether in romance or the love of a child.
This is a delightful collection, written by a master storyteller at the height of her powers.
Find this review on Sonderbooks at: www.sonderbooks.com/Teens/chronicles_of_avonlea.html
Disclosure: I am an Amazon Affiliate, and will earn a small percentage if you order a book on Amazon after clicking through from my site.
Disclaimer: I am a professional librarian, but I maintain my website and blogs on my own time. The views expressed are solely my own, and in no way represent the official views of my employer or of any committee or group of which I am part.
What did you think of this book?