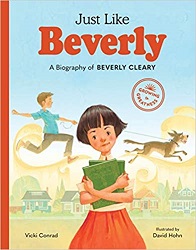 Just Like Beverly
A Biography of Beverly Cleary
by Vicki Conrad
illustrated by David Hohn
Little Bigfoot (Sasquatch Books), 2019. 52 pages.
Starred Review
Here's a delightful picture book biography of Beverly Cleary. I've read her own story of her life, and this book does a great job of pulling out details that would be interesting to children.
I love the way the illustrator makes Beverly look very much like Ramona.
The book focuses on Beverly's childhood. She struggled with reading, because she had smallpox while the other children in her class were learning to read. But then a wonderful teacher came along and helped Beverly catch up, and she discovered the joy of reading. Later teachers encouraged her in her writing ability.
Beverly studied to become a children's librarian, and eventually worked to write stories especially for the boys who came into her library. They wanted stories about "kids like us" – exactly what Beverly had wanted when she was their age. The book points out how she used her own childhood experiences in her books.
There are eight pages of back matter, where I found a listing of some of her accomplishments and honors, including the Laura Ingalls Wilder Award, the Newbery Medal, the National Book Award, and the Living Legend Award from the Library of Congress. National Drop Everything and Read Day was established in her honor on her ninetieth birthday, and there's a Beverly Cleary Sculpture Garden in Portland, Oregon, where she grew up. Beverly Cleary is still alive, though the book wisely doesn't make much of this fact, and simply mentions that she celebrated her hundredth birthday on April 12, 2016. ***Note: Beverly Cleary has died since I wrote this review. She lived to be 104. I think I wrote this review in 2019 and decided to finally just post it!
This book is a wonderful tribute to a great author, written at the level of children ready for her books.
beverlycleary.com
sasquatchbooks.com
This review is exclusive to the blog.
Disclosure: I am an Amazon Affiliate, and will earn a small percentage if you order a book on Amazon after clicking through from my site.
Disclaimer: I am a professional librarian, but I maintain my website and blogs on my own time. The views expressed are solely my own, and in no way represent the official views of my employer or of any committee or group of which I am part.
What did you think of this book?