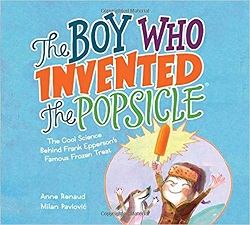 The Boy Who Invented the Popsicle
The Cool Science Behind Frank Epperson's Famous Frozen Treat
by Anne Renaud and Milan Pavlovic
Kids Can Press, 2019. 40 pages.
Starred Review
Review written October 23, 2019, from a library book
This is a picture book biography of Frank Epperson, the inventor of the Popsicle, with a little bit more.
I'm always impressed when children's nonfiction manages to surprise me. The big surprise in this book is that Frank Epperson invented the Popsicle before household freezers were common. And he first experimented with making them when he was eleven years old, living in San Francisco, during an unusual cold spell.
The book shows that he was an inventor at heart, making a two-handled handcar when he was a kid. He also experimented with making flavored soda water.
The book has experiments you can do at home to go with the text. One is making your own lemon-flavored soda water. (Hmm. Is using baking soda what gave soda its name? The book doesn't say.)
His first frozen drink on a stick happened when he tried freezing one of these drinks. Later, as an adult, when he saw people eating chocolate-covered ice cream bars, he thought he'd experiment with making more of his frozen drinks on a stick.
But he needed to freeze them at a cooler temperature than water freezes because of the sugar and flavorings included – and an experiment helps the reader understand that. And he needed to freeze them quickly, because he didn't want the flavorings and water to separate – another experiment helps the reader understand that.
He came out with his frozen treats – which he first called the Ep-sicle – in the early 1920s. This was long before homes were typically stocked with a refrigerator-freezer, so they were mostly sold in stores and at special events.
This book gives an interesting story of ingenuity, experimentation, and implementation. The experiments give it a little something beyond the typical picture book biography.
This review is only on the blog.
Disclosure: I am an Amazon Affiliate, and will earn a small percentage if you order a book on Amazon after clicking through from my site.
Disclaimer: I am a professional librarian, but I maintain my website and blogs on my own time. The views expressed are solely my own, and in no way represent the official views of my employer or of any committee or group of which I am part.
What did you think of this book?