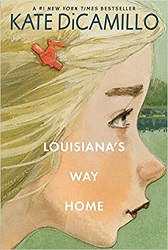 Louisiana's Way Home
by Kate DiCamillo
Candlewick Press, 2018. 227 pages.
Starred Review
Review written August 27, 2018, from an advance reader copy.
2018 Sonderbooks Stand-out:
#5 Historical Children's Fiction
This is the first time Kate DiCamillo has returned to a character from one of her earlier books, and I find I like this second book even better than the first – but you don't have to have read Raymie Nightingale to enjoy Louisiana's Way Home.
Louisiana's crazy granny has finally really gone nuts. She gets Louisiana up in the middle of the night and drives north. They cross the state line into Georgia, and still don't stop.
But then Granny starts moaning. She needs a dentist. What's a girl to do? Louisiana is nothing if not resourceful and drives the car herself until she finds a dentist in Richford, Georgia.
But after Granny has all her teeth removed, they need a place to stay. She arranges payment with Louisiana's beautiful singing voice.
But Louisiana wants to get back home. And there are still more adventures, good and bad, ahead of her. And she finds out that the story she's been telling of the Flying Elefantes is not precisely true.
As always, Kate DiCamillo's characters are quirky yet lovable. (Either that, or quirky and annoying, like the organ player.) There's a lot of warmth and compassion in this book – and Louisiana is up against great big odds.
Now, the final situation resolved itself maybe a little too easily – but I was happy with the result and happy with Louisiana's choice.
And when all is said and done, she does find her way home.
Perhaps what matters when all is said and done is not who puts us down but who picks us up.
katedicamillostoriesconnectus.com
candlewick.com
Find this review on Sonderbooks at: www.sonderbooks.com/Childrens_Fiction/louisianas_way_home.html
Disclosure: I am an Amazon Affiliate, and will earn a small percentage if you order a book on Amazon after clicking through from my site.
Disclaimer: I am a professional librarian, but I maintain my website and blogs on my own time. The views expressed are solely my own, and in no way represent the official views of my employer or of any committee or group of which I am part.
What did you think of this book?