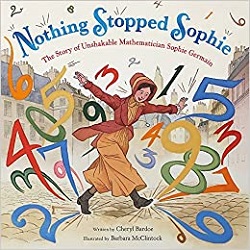 Nothing Stopped Sophie
The Story of Unshakable Mathematician Sophie Germain
by Cheryl Bardoe
illustrated by Barbara McClintock
Little, Brown and Company, 2018. 36 pages.
Starred Review
Review written June 27, 2018 from a library book.
2018 Sonderbooks Stand-out:
#2 Children's Nonfiction Picture Books
At last! The Boy Who Loved Math was a picture book biography of a mathematician that was hugely popular a few years ago. Now there's one about a girl who loved math! And Sophie Germain accomplished amazing things.
It's always interesting to illustrate someone being good at math. This is accomplished with interesting variety in this book. I like the illustration where her parents tried to take away her candles so that she couldn't stay up late doing math. But later her work involved patterns of vibrations, and those are nicely illustrated.
Another interesting episode is where Professor Joseph-Louis Lagrange goes to visit the brilliant student who has been writing to him and discovers she's a woman.
With so many women who broke ground in fields that were closed to them, a key part of Sophie's life was her persistence. That is portrayed beautifully here, from the title to the final page.
Sophie is celebrated today because nothing stopped her. Her fearlessness and perseverance have inspired many people.

Perhaps she will also inspire you.
cherylbardoe.com
barbaramcclintockbooks.com
lbyr.com
Find this review on Sonderbooks at: www.sonderbooks.com/Childrens_Nonfiction/nothing_stopped_sophie.html
Disclosure: I am an Amazon Affiliate, and will earn a small percentage if you order a book on Amazon after clicking through from my site.
Source: This review is based on a library book from Fairfax County Public Library.
Disclaimer: I am a professional librarian, but the views expressed are solely my own, and in no way represent the official views of my employer or of any committee or group of which I am part.
What did you think of this book?