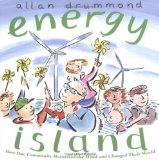 Energy Island
How One Community Harnessed the Wind and Changed Their World
by Allan Drummond
Frances Foster Books (Farrar Straus Giroux), New York, 2011. 36 pages.
Starred Review
Energy Island is a nonfiction picture book about an island in Denmark that uses only renewable energy generated on the island. The island is very windy, so wind power is a major source of energy on the island, and you can see the effects of the wind in all the illustrations and the repeated cry of "Hold on to your hats!"
The story is told well, beginning with the Danish Ministry of Environment and Energy sending a teacher named Soren Hermansen to the island of Samso to try to help the island become independent of nonrenewable energy. The book shows the resistance to the idea, and then the small and large beginnings. A breakthrough happened when a storm knocked out the off-island sources of energy, but the wind turbines that had been installed on the island still provided power.
The inspiring story is told quite simply, with exuberant illustrations. Sidebars give more detailed explanations of the concepts involved for those who want to know more.
This isn't necessarily a book for school projects, so I hope that it doesn't get buried in the nonfiction section. I hope children find it, because it tells a beautiful, inspiring — and true — story.
Find this review on Sonderbooks at: www.sonderbooks.com/Childrens_Nonfiction/energy_island.html
Disclosure: I am an Amazon Affiliate, and will earn a small percentage if you order a book on Amazon after clicking through from my site.
Source: This review is based on a library book from the Fairfax County Public Library.