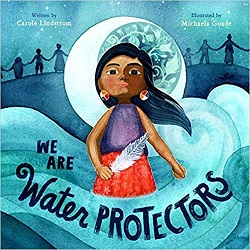 We Are Water Protectors
written by Carole Lindstrom
illustrated by Michaela Goade
Roaring Brook Press, 2020. 40 pages.
Review written April 21, 2020, from a library book
The Author's Note at the back of this picture book does tell us that her motivation to write it came from April 2016 when the Standing Rock Sioux Tribe protested against a pipeline going through their sacred lands and were joined by more than five hundred Indigenous Nations. But the text is universal – about standing on behalf of water and the earth.
The paintings on the large spreads in this book are colorful, lush, and gorgeous. We see a Native American girl repeating to the reader what she's been told about the importance of water. We come from water – from our mother's womb to the nourishment of water on the earth.
We also hear of a prophecy of a black snake that would come and poison the water, plants, and animals.
Now the black snake is here.
Its venom burns the land.
Courses through the water,
Making it unfit to drink.
Our protagonist declares she's going to fight the black snake, and here the book is beautifully inspiring.
We fight for those
Who cannot fight for themselves:
The winged ones,
The crawling ones,
The four-legged,
The two-legged,
The plants, trees, rivers, lakes,
The Earth.

We are all related.
The language is simple and the pictures are beautiful. The reader will learn about Native American culture in a way that invites them also to contribute to protecting the water.
At the very back of the book, there's a pledge to be a steward of the Earth and a protector of the water, and to treat all beings on the Earth with kindness and respect.
Find this review on Sonderbooks at: www.sonderbooks.com/Picture_Books/we_are_water_protectors.html
Disclosure: I am an Amazon Affiliate, and will earn a small percentage if you order a book on Amazon after clicking through from my site.
Source: This review is based on a library book from Fairfax County Public Library.
Disclaimer: I am a professional librarian, but the views expressed are solely my own, and in no way represent the official views of my employer or of any committee or group of which I am part.
What did you think of this book?