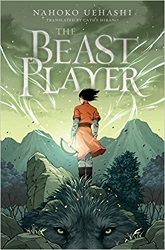 The Beast Player
by Nahoko Uehashi
translated by Cathy Hirano
Godwin Books (Henry Holt and Company), 2019. 344 pages. First published in Japanese in 2009.
Review written July 8, 2020, from a library book
2020 Printz Honor Book
The Beast Player is set in a detailed fantasy world. Elin's mother is a steward of the Toda, fearsome beasts that are used for war. But when the Toda under her care get fatally ill, Elin's mother is executed. Before they can carry it out, she sends Elin on the back of a Toda to a faraway land.
In that land, Elin encounters a friendly old beekeeper who was once a teacher. He finds an eager pupil in Elin. When she grows to be a teenager, he gets her a place learning to care for the Royal Beasts of that country, which are even more fearsome than the Toda.
Elin doesn't think it's right to force the beasts to do the will of humans with the Silent Whistle that paralyzes them. She takes on the care of an injured cub and by listening and care, learns to communicate with that beast.
But meanwhile, there are political intrigues at work in the two parts of the country. Elin being able to communicate with a Royal Beast is going to become political if anyone with power finds out. And when the leader of the country is threatened in sight of Elin and her beast, they do find out.
I love the character of Elin in this book, determined to let beasts and people make their own choices, but caught up in large events she'd rather avoid. The world is rich and detailed. I understand there are going to be more books coming out, and I'm looking forward to finding out what happens next.
Find this review on Sonderbooks at: www.sonderbooks.com/Teens/beast_player.html
Disclosure: I am an Amazon Affiliate, and will earn a small percentage if you order a book on Amazon after clicking through from my site.
Source: This review is based on a book from Fairfax County Public Library.
Disclaimer: I am a professional librarian, but the views expressed are solely my own, and in no way represent the official views of my employer or of any committee or group of which I am part.
What did you think of this book?