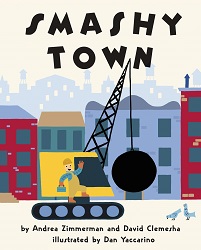 Smashy Town
by Andrea Zimmerman and David Clemesha
illustrated by Dan Yaccarino
Harper, 2020. 28 pages.
Review written July 11, 2020, from a library book
The next time I do a Toddler Storytime – Alas, there's no telling when that will be – I'm going to grab this book. It's a book about demolishing buildings! Of course! Perfect for toddlers!
And the authors and illustrator pull it off superbly. It's a short picture book with a refrain. For each of brick, wood, glass, and stone, we've got a spread that goes like this:
GO!
Swing the ball, hit the wall!
Smash, smash, smash!
Swing the ball, hit the wall!
Crash, crash, crash!

Crumble, tumble,
down goes brick.
Is the demolition done?
NO!
Parents will be a little relieved that there's even a spread about cleaning up the mess after everything is knocked down. And the endpapers show that what gets built in place of the old buildings that Mr. Gilly demolished is a public library and a city park.
This book is made to order for reading aloud to toddlers. I look forward to the day when I'll get to try it out.
andreaanddavid.com
danyaccarino.com
Find this review on Sonderbooks at: www.sonderbooks.com/Picture_Books/smashy_town.html
Disclosure: I am an Amazon Affiliate, and will earn a small percentage if you order a book on Amazon after clicking through from my site.
Source: This review is based on a book from Fairfax County Public Library.
Disclaimer: I am a professional librarian, but the views expressed are solely my own, and in no way represent the official views of my employer or of any committee or group of which I am part.
What did you think of this book?