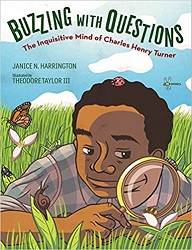 Buzzing with Questions
The Inquisitive Mind of Charles Henry Turner
by Janice N. Harrington
illustrated by Theodore Taylor III
Calkins Creek (Highlights), 2019. 48 pages.
Review written August 27, 2020, from a library book
Buzzing with Questions is a picture book biography about African American scientist Charles Henry Turner, who was born in 1867 in Ohio, when it was unusual for an African American to be a scientist. I like the way the author portrays him from boyhood as a kid with lots of questions.
Charles Henry Turner asked so many questions that his teacher urged him to "go and find out."

And Charles did.
What I really thought was wonderful about this biography was that it described the creative experiments Charles did with insects. He put spiders in different environments to see if their web construction changed. For multiple times, he knocked down a spider's web made in one place, and eventually the spider gave up and moved, thus showing that it could learn and adapt.
He performed many experiments to find how ants find their way back to their nests. He showed that bees have a sense of time by putting out jam for them at breakfast, lunch, and dinner – but then changing it to only breakfast. Then he did more experiments to determine that bees can see color. He taught cockroaches to find their way through a maze, and later watched caterpillars find their way in a vertical maze.
I like the way this book talks about a scientist who worked hard to answer questions by doing experiments – and tells kids enough about the experiments to capture their imagination. Science is about finding out – and Charles Henry Turner's life illustrates doing exactly that.
janiceharrington.com
theodore3.com
calkinscreekbooks.com
This review is only on the blog.
Disclosure: I am an Amazon Affiliate, and will earn a small percentage if you order a book on Amazon after clicking through from my site.
Disclaimer: I am a professional librarian, but the views expressed are solely my own, and in no way represent the official views of my employer or of any committee or group of which I am part.
What did you think of this book?