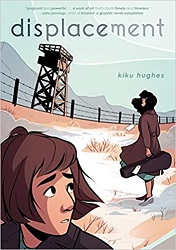 Displacement
by Kiku Hughes
First Second, 2020. 284 pages.
Review written September 2, 2020, from a library book
Starred Review
Displacement is a graphic novel telling about a teenage girl who gets suddenly displaced – sent back in time – to her grandmother's past. The first two times it doesn't last long, but then she gets displaced for months and sent with others to the incarceration camps of Japanese Americans.
This is a look at those camps through modern eyes. Kiku is bothered that she's a visitor from the future, but she didn't really know what happened. Because those who were incarcerated were shamed about it, they didn't talk much about it, even with their own children. Kiku's grandmother died before she was born, and not much of her story made its way to Kiku.
Like They Called Us Enemy, by George Takei, this book emphasizes the importance of not letting this happen again. Incarcerating people for the color of their skin is a grave injustice, and this book helps you see through the eyes of the humans treated that way.
A powerful story, skillfully told.
This review is only on the blog.
Disclosure: I am an Amazon Affiliate, and will earn a small percentage if you order a book on Amazon after clicking through from my site.
Disclaimer: I am a professional librarian, but the views expressed are solely my own, and in no way represent the official views of my employer or of any committee or group of which I am part.
What did you think of this book?