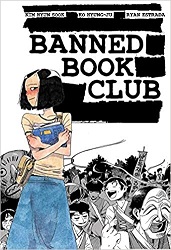 Banned Book Club
written by Kim Hyun Sook and Ryan Estrada
art by Ko Hyung-Ju
Iron Circus Comics, 2020. 198 pages.
Review written September 22, 2020, from a library book
I didn't realize until I'd finished the book that this is a graphic memoir, not a graphic novel. Even thinking it was a novel, I realized I had no idea that free speech had been suppressed in South Korea in 1983. This book points out that I need to separate out nonfiction for teens from my children's nonfiction page – this has gritty and difficult material, more suitable for teens and adults than children. [Note: I'm posting this much later, and did, in fact, make a page for Teen Nonfiction.]
The setting is South Korea, 1983. Yes, that's South Korea, not North Korea. I had to go back and check. Hyun Sook was a teen wanting to start college. Her mother didn't want her to go because there had been student protests, which were being stopped by the government. Her father was supportive, so she does head off to school, trying to separate herself from the protesters.
Sure enough, when Hyun Sook gets to college, she tries to stay out of trouble. She even joins a Masked Folk Dance Team to do something that's not political. But she learns that they do folk dances with stories that have political ramifications and are a cover for protests. Then the friends she makes on the team pull her into a Banned Book Club with a contact at a bookstore who gets them banned books.
I was amazed at the range of books that they were not permitted to read. Both western literature and Communist literature from North Korea were on the list. There is a spy in the group, and some of her friends get arrested and beaten and she herself gets interrogated by police and I won't say more about the plot to not give spoilers. I will say that I was shocked by basic freedoms that were violently repressed.
The book ends with a reunion of the Banned Book Club in 2016. We learn about the history of fascism in South Korea when one of her friends outlines the protests he's been part of since 1983. In 2016, they were protesting for the removal of a president who was the daughter of the dictator they protested against in 1983.
A note on the final page tells us what happened after the close of this book:
In March 2017, President Park Geun-Hye was impeached, removed from office, and imprisoned for corruption. The final vote was struck by her own judges, many of whom she had personally placed in office. A special election was held, and the new president was Moon Jae-in.
This book is frightfully timely and tells a true story of fascism that is not from 1930s Germany. It makes the reader value their freedom to read and freedom to speak up. May we never let those go. Please don't tolerate book banning, whatever the excuse.
Find this review on Sonderbooks at: www.sonderbooks.com/Teen_Nonfiction/banned_book_club.html
Disclosure: I am an Amazon Affiliate, and will earn a small percentage if you order a book on Amazon after clicking through from my site.
Source: This review is based on a book from Fairfax County Public Library.
Disclaimer: I am a professional librarian, but the views expressed are solely my own, and in no way represent the official views of my employer or of any committee or group of which I am part.
What did you think of this book?