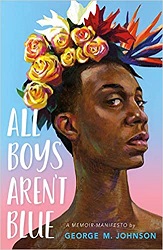 All Boys Aren't Blue
A Memoir-Manifesto
by George M. Johnson
read by the author
Macmillan Audio, 2020. 5 hours, 12 minutes.
Review written November 9, 2020, from a library eaudiobook
In this book, George Johnson talks about what it was like for him growing up Black and queer, even in a loving and supportive family.
His storytelling style is interesting and engaging, though a little repetitive in spots. He had me on the edge of my seat when I listened to him tell about getting his teeth kicked out when he was five years old. His stories of his family, especially his grandma, are warm and loving.
When he talks about sexual coming-of-age, he gets way more detailed than what this middle-aged heterosexual white woman wanted to hear. But this book isn't written for heterosexual middle-aged white women. It's written especially to other Black and queer folks to find out they aren't alone. He even talks about how little information he had about gay sex and how he hopes he can help others go beyond trial and error with a few less errors.
I'm glad this book is out there, and even for those not in its target audience, it's a story of a boy growing up as an outsider and finding his way with the help of community.
iamgmjohnson.com
us.macmillan.com/audio
Find this review on Sonderbooks at: www.sonderbooks.com/Teen_Nonfiction/all_boys_arent_blue.html
Disclosure: I am an Amazon Affiliate, and will earn a small percentage if you order a book on Amazon after clicking through from my site.
Disclaimer: I am a professional librarian, but the views expressed are solely my own, and in no way represent the official views of my employer or of any committee or group of which I am part.
What did you think of this book?