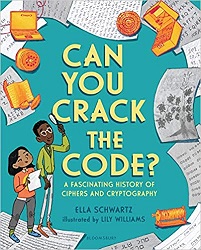 Can You Crack the Code?
A Fascinating History of Ciphers and Cryptography
by Ella Schwartz
illustrated by Lily Williams
Bloomsbury Children's Books, 2019. 118 pages.
Review written December 14, 2020, from a library book
Starred Review
2020 Sonderbooks Stand-out:
#6 General Children's Nonfiction
2021 Mathical Honor Book, Grades 6-8
I've always thought codes and ciphers are fascinating, from the time I was a kid right up to the present when I made some videos showing how to make interesting ciphers using mathematical concepts.
When I made the videos last Spring when the library was closed for the pandemic, I didn't find too many current books on making codes, but that situation has been remedied. This book is a nice solid selection to fill in that gap. Written for elementary to middle school kids, it gives a history of encoded messages along with explanations of ciphers and codes the reader can use.
Each chapter has a message to decrypt, and the book ends with a message for the reader to solve and email the author if they figure it out. A few clues are given, and it's a nicely appropriate historical code used.
The book starts with steganography – hiding a message in some way – and the Caesar cipher and continues with things like Benedict Arnold's book cipher and Thomas Jefferson's wheel cipher up through a puzzle encoded in a statue in front of CIA headquarters and the use of prime numbers in computer security.
Even when they get deep into the history of clandestine messages, they do give the readers chances to crack the codes.
There's plenty here to get kids intrigued, and one thing I love about code-making is there are lots of jumping-off points from this book.
ellasbooks.com
lilywilliamsart.com
Bloomsbury.com
Find this review on Sonderbooks at: www.sonderbooks.com/Childrens_Nonfiction/can_you_crack_the_code.html
Disclosure: I am an Amazon Affiliate, and will earn a small percentage if you order a book on Amazon after clicking through from my site.
Disclaimer: I am a professional librarian, but the views expressed are solely my own, and in no way represent the official views of my employer or of any committee or group of which I am part.
What did you think of this book?