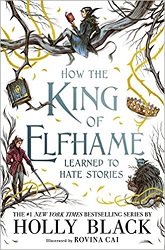 How the King of Elfhame Learned to Hate Stories
by Holly Black
illustrated by Rovina Cai
Little, Brown and Company, 2020. 173 pages.
Review written January 19, 2021, from a library book
Starred Review
Oh, this is marvelous! It's an illustrated novella for teens. And why shouldn't teens get illustrations in beautifully printed books?
This is for people who have read the author's Folk of the Air trilogy. The book begins after that trilogy ends, with Cardan and Jude making a visit to the mortal world to fight a monster – but gives us much of the back story of Cardan, King of Elfhame, when he was growing up as a young and out-of-favor prince of faerie.
The book reads like a fairy tale, with an inner story – the one Cardan learned to hate – repeated three times, with significant variations.
It also has a confrontation at the end that requires cleverness in order to come out alive.
This is a lovely reading experience for all Holly Black's fans.
blackholly.com
lbyr.com
thenovl.com
Find this review on Sonderbooks at: www.sonderbooks.com/Teens/king_of_elfhame.html
Disclosure: I am an Amazon Affiliate, and will earn a small percentage if you order a book on Amazon after clicking through from my site.
Disclaimer: I am a professional librarian, but the views expressed are solely my own, and in no way represent the official views of my employer or of any committee or group of which I am part.
What did you think of this book?