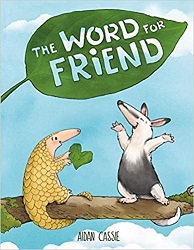 The Word for Friend
by Aidan Cassie
Farrar Straus Giroux Books for Young Readers, 2020. 36 pages.
Review written February 3, 2021, from a library book
This bright picture book tells about a young pangolin named Kemala who loves to talk. Her family moves to a new town and she's looking forward to making friends.
But when she gets to her new school, all the children (animals) speak a different language. Kemala curls into a ball while they play.
Kemala is also good at cutting shadow pictures out of leaves with her sharp claws. She ends up making friends using this skill.
I enjoyed the way the author had the other animals speaking Esperanto in their speech bubbles. So it sounded like an authentic language, but every child who reads the book will understand Kemala finding the words strange.
It's also fun how her new friend isn't good at shadow pictures at first, but is willing to learn.
There's information about Esperanto and about pangolins at the back.
A fun story about making new friends with some details that surprised me.
Find this review on Sonderbooks at: www.sonderbooks.com/Picture_Books/word_for_friend.html
Disclosure: I am an Amazon Affiliate, and will earn a small percentage if you order a book on Amazon after clicking through from my site.
Disclaimer: I am a professional librarian, but the views expressed are solely my own, and in no way represent the official views of my employer or of any committee or group of which I am part.
What did you think of this book?