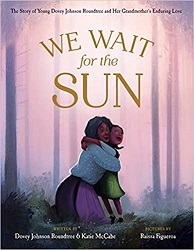 We Wait for the Sun
The Story of Young Dovey Johnson Roundtree and Her Grandmother's Enduring Love
by Dovey Johnson Roundtree and Katie McCabe
pictures by Raissa Figueroa
Roaring Brook Press, 2021. 36 pages.
Review written April 7, 2021, from a library book
Starred Review
2022 Coretta Scott King Illustrator Honor Book
We Wait for the Sun is not a traditional picture book biography, but it is a lovely picture book story about a little girl going berry-picking with her grandmother and friends before the sun comes up. The illustrations catch the dawning light so beautifully. The text gives you the feeling of fresh, sweet, juicy berries in your mouth.
But then the wonderful part, in both text and illustrations, is when the sun comes up. Grandma stops everything and watches the sun rise with Dovey Mae.
Again and again, Grandma reaches low or stands tiptoe to pluck berries. And then, suddenly, in the middle of her rush, she stops.

"Look, Dovey Mae," she whispers. "Over yonder."

Slowly, slowly, the horizon pinkens.

"Here she comes!" Grandma whispers. She draws me to her, and together we watch the pink turn to red, the red to gold.

Then, all at once, as if at my grandmother's command, the orange ball that is the sun shows its face.

It rises up over the edge of the world, and as it does, Grandma rises, too, and stands, just looking, her face shining in the light.
It's a beautiful story of community, family, and sweetness. Then at the back in a four-page author's note, we learn about Dovey Johnson Roundtree and the remarkable life she lived, breaking boundaries in the military, law, and the ministry. This story came from the autobiography she wrote with the help of Katie McCabe before she died.
It's a lovely story for children that comes from a remarkable woman who spent her life shining like the sun.
Find this review on Sonderbooks at: www.sonderbooks.com/Childrens_Nonfiction/we_wait_for_the_sun.html
Disclosure: I am an Amazon Affiliate, and will earn a small percentage if you order a book on Amazon after clicking through from my site.
Disclaimer: I am a professional librarian, but the views expressed are solely my own, and in no way represent the official views of my employer or of any committee or group of which I am part.
What did you think of this book?