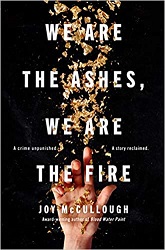 We Are the Ashes, We Are the Fire
by Joy McCullough
with illuminations by Maia Kobabe
Dutton Books, 2021. 383 pages.
Review written June 8, 2021, from a library book
Starred Review
As the book opens, Em Morales learns the verdict against the college student who raped her sister after a frat party – guilty on all counts. But then comes the sentencing, and he's sentenced to only time served.
Em feels terrible, because she urged her sister not to accept a plea deal and to go through the agony of the trial. She's been trying to speak up for victims of sexual violence, and now it seems that she's done more harm than good. The summer before her Senior year is starting, and she even decides to give up on journalism, which has been her life.
So now she's at loose ends for the summer, and she starts hanging out with Jess, a nonbinary teen whose parents are splitting up and who stayed in town to try to keep them together. Jess mentions a medieval woman, Marguerite de Bressieux, and Em discovers she went to war to get vengeance for her family, who were slaughtered and raped by the Count of Orange.
Em starts writing a novel in verse about Marguerite, and Jess, an artist, begins illuminating the pages.
But Em's dealing with a lot of anger and people are still upset with her sister for speaking up. So things that happen are far more complex than simply writing a book to get out her rage.
While I was in the middle of reading this book, someone called the library and asked me to read him a specific Wikipedia article. I did so – until I listened more closely to what he was saying and realized he was masturbating while I was talking. Having that happen when I was in the middle of reading a book about characters angry about our toxic society and the power men have over women and rape culture didn't help.
There are a couple of good men in this book, Em's father being one of them, so they're not trying to say that every man is a predator. But it's a dark book, a book about fighting back against oppression – and not a tremendously hopeful one.
Something I loved that wasn't a main point of the book was how nicely Em modeled using they/them pronouns for Jess. She referred to Jess smoothly and consistently with they/them pronouns, not making a big deal of it, and the reader picks up on it quickly. Anyone who reads this book will find it that much easier to use the correct pronouns when they have a nonbinary friend.
This is a powerful book. It got me a little discouraged – but that's probably more a function of what happened to me while I was reading the book than of the book itself. It is about women fighting back persistently, whether they are successful or not.
Find this review on Sonderbooks at: www.sonderbooks.com/Teens/we_are_the_ashes.html
Disclosure: I am an Amazon Affiliate, and will earn a small percentage if you order a book on Amazon after clicking through from my site.
Disclaimer: I am a professional librarian, but the views expressed are solely my own, and in no way represent the official views of my employer or of any committee or group of which I am part.
What did you think of this book?