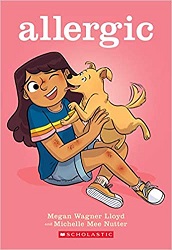 Allergic
by Megan Wagner Lloyd and Michelle Mee Nutter
Graphix (Scholastic), 2021. 238 pages.
Review written June 25, 2021, from a library book
Starred Review
Allergic is a sweet graphic novel about a girl who's planning to get a dog for her tenth birthday – and breaks out in a rash after she's given her heart to one. It turns out that she's allergic to anything with fur or feathers.
This has repercussions. Maggie's class can't have a class pet. When her new friend who moved in next door gets a puppy, that means Maggie can't come over any more.
She tries to cope in ways that turn out to be both bad and good. The idea of trying to secretly keep a mouse in her closet turns out to be not so great. Meanwhile, Maggie's mom is expecting a baby soon, and Maggie's feeling a little left out.
The pictures in this graphic novel are adorable, and the reader will love Maggie and her family. Her plight will capture the sympathy of readers, helping them see a perspective maybe different from their own. All while reading and viewing a great story with plenty of conflict in a popular format. This book will fly off the shelves, and deservedly so.
meganwagnerlloyd.com
michellemee.com
scholastic.com
Find this review on Sonderbooks at: www.sonderbooks.com/Childrens_Fiction/allergic.html
Disclosure: I am an Amazon Affiliate, and will earn a small percentage if you order a book on Amazon after clicking through from my site.
Disclaimer: I am a professional librarian, but the views expressed are solely my own, and in no way represent the official views of my employer or of any committee or group of which I am part.
What did you think of this book?