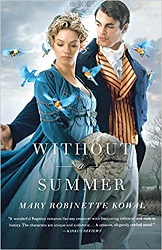 Without a Summer
by Mary Robinette Kowal
Tom Doherty Associates (TOR), 2013. 381 pages.
Review written June 25, 2021, from my own copy
Starred Review
My sister Becky gave me this book years ago (Thank you, Becky!), but alas, like so many non-library books that don't have a due date, I didn't get to it right away. But the time was finally right when I signed up for the 2021 Jane Austen Summer Program, a four-day virtual symposium on Jane Austen, and Mary Robinette Kowal was one of the speakers, giving two wonderful talks about putting fantasy into your Jane Austen adaptation.
At the conference, I also learned that the year 1816 really was a year without a summer. The note at the back says that after a volcano erupted in the West Indies, the ash disrupted weather everywhere, and there was snow in Washington DC in July. In fact, Mary Robinette was able to determine the weather in London for the days covered in this book. I had assumed when I started reading that it must have been a side effect of magic – so I was quick to believe that people would have looked for magic users to blame for the strange weather, which turns out to be a key point in the book.
This book is another Austen-like story, with magic. The author does write each book as a stand alone. In this third volume of the Glamourist Histories, Jane's sister Melody needs to find a husband and is running out of options in the country, so Jane and her husband take Melody to London while they work on a glamural for Lord Stratton.
The author worked in ideas from Jane Austen's Emma as Jane tries and fails to be a good matchmaker for her sister. But there's a lot more going on as well. Sir David's despicable father wants to renew their relationship and meet his wife – but there are some plots afoot. And the coldmongers are getting blamed for the wintry weather in summer – even though that is not how glamour works. It all builds to a big climax that puts Jane and her husband in danger, with Melody's happiness also at stake.
Meanwhile, I enjoyed Mary Robinette's sessions at the Jane Austen symposium tremendously, and gained a new appreciation of her craft in writing these books. She wanted to write a fantasy novel similar to the books Jane Austen wrote – where the fate of the world is not at stake, but instead the happiness of a few people. She wanted magic, but in order for it to be one of the womanly arts, it had to be magic that didn't do much. The "glamour" in these books is all about illusion. And it's typically done by women – except for professionals glamourists, who of course are men. So Sir David working with his wife is breaking ground and defying convention.
Another thing I found out when I looked in the back of the book is that my sister-in-law Laura (then Plett) is acknowledged! She does calling for English Country Dances, and gave the author some tips about how the dances were done in Regency England. So it was fun to come across her name in the back of my book.
This series is lovely and highly recommended. I hope this will give me the motivation to set aside the recently published books I need to read for Capitol Choices and read a couple more Austen-with-fantasy books purely for my own enjoyment. There are two more in the series, and it's high time I caught up.
maryrobinettekowal.com
tor-forge.com
Find this review on Sonderbooks at: www.sonderbooks.com/Fiction/without_a_summer.html
Disclosure: I am an Amazon Affiliate, and will earn a small percentage if you order a book on Amazon after clicking through from my site.
Disclaimer: I am a professional librarian, but the views expressed are solely my own, and in no way represent the official views of my employer or of any committee or group of which I am part.
What did you think of this book?