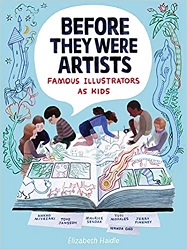 Before They Were Artists
Famous Illustrators as Kids
by Elizabeth Haidle
Etch (Houghton Mifflin Harcourt), 2021. 64 pages.
Review written July 6, 2021, from a library book
Starred Review
Here's a picture-book-sized nonfiction book for children in graphic novel format telling about the childhoods of six distinguished illustrators.
I would have never thought to put these particular illustrators together in a book, and I love the variety of backgrounds they represent. We've got:
Wanda Gág, who wrote Millions of Cats, born in 1893 in New Ulm, Minnesota.
Maurice Sendak, who wrote Where the Wild Things Are, born in 1928 in Brooklyn, New York.
Tove Jansson, who wrote Finn Family Moomintroll, born in 1914 in Helsinki, Finland.
Jerry Pinkney, who wrote The Lion and the Mouse, born in 1939 in Philadelphia, Pennsylvania.
Yuyi Morales, who wrote Just a Minute, born in 1968 in Xalapa, Mexico.
Hayao Miyazaki, who wrote Nausicaä of the Valley of the Wind, born in 1941 in Tokyo, Japan.
Each illustrator gets a title spread with one book featured (the one I listed above), a picture of the illustrator as a child in the landscape of their own books, with a quotation coming from a speech bubble. There's a time line across the bottom with notable events in their lives, including other books they've written. Then they each get six to eight more pages with panels in graphic novel format telling about their childhoods, how they got started in art, and their many accomplishments.
This book is delightful to look at and presents lots of information in an entertaining way. It's sure to inspire other young artists or at least get them thinking about what their love for art could lead to.
There's a spread at the front with the title "What makes an illustrator?" It talks about how they had many different backgrounds, but they loved to draw.
In all cases, inspiration from someone else helped pave the way: another artist, animator, cartoonist, or painter whose books, films, or paintings moved hearts and imprinted themselves on minds. These heroes and mentors made a path of possibility to walk down.
May the stories in this book inspire other artists in turn.
Find this review on Sonderbooks at: www.sonderbooks.com/Childrens_Nonfiction/before_they_were_artists.html
Disclosure: I am an Amazon Affiliate, and will earn a small percentage if you order a book on Amazon after clicking through from my site.
Disclaimer: I am a professional librarian, but the views expressed are solely my own, and in no way represent the official views of my employer or of any committee or group of which I am part.
What did you think of this book?