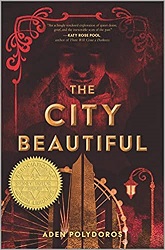 The City Beautiful
by Aden Polydoros
Inkyard Press, 2021. 462 pages.
Review written February 1, 2022, from a library book
Starred Review
2022 Sidney Taylor Award Winner, Young Adults
2021 Cybils Finalist, Young Adult Speculative Fiction
The City Beautiful is set in 1893 Chicago, during the World's Fair. Alter Rosen works in a print shop, scraping and saving to bring his mother and sisters to America from Romania, still haunted by the death of his father during their voyage to America.
Then Alter's best friend Yacov is found dead. Alter hadn't even been able to admit to himself that he was in love with Yacov. He's convinced this is connected to the disappearances of other Jewish boys in the neighborhood, but the police scoff at the idea.
And then when Alter is trying to tend Yacov's body, he gets possessed by Yacov's dybbuk. He is haunted by Yacov's memories and a compulsion to find the man who killed Yacov — and his family back in Russia. It's clear that if Alter doesn't fulfill this mission soon enough, the dybbuk will take over, and they will both die.
So we've got a mystery with some twists and turns. Along the way, we learn about the horrible hatred that followed the Jewish people across the ocean. And a young gay teen trying to come to terms with his emotions. And a young man trying to survive in America and make a home for his family.
The author helps you understand the world of 1893 Chicago and what kids and immigrants were up against, simply trying to survive. One of Alter's friends works for an anarchist newspaper, and we've got background about that movement as well.
This is an atmospheric historical mystery with heart.
Find this review on Sonderbooks at: www.sonderbooks.com/Teens/city_beautiful.html
Disclosure: I am an Amazon Affiliate, and will earn a small percentage if you order a book on Amazon after clicking through from my site.
Disclaimer: I am a professional librarian, but the views expressed are solely my own, and in no way represent the official views of my employer or of any committee or group of which I am part.
What did you think of this book?