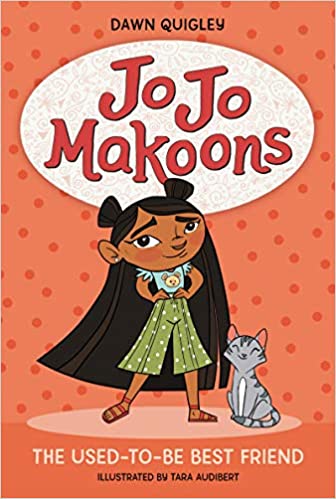 Jo Jo Makoons
The Used-To-Be Best Friend
by Dawn Quigley
illustrated by Tara Audibert
Heartdrum (HarperCollins), 2021. 72 pages.
Review written March 12, 2022, from a library book
2022 American Indian Youth Literature Honor Book
This book begins a series about Jo Jo Makoons, who is an outgoing first grade girl who lives on an Ojibwe Native American reservation. Like so many wonderful beginning chapter books, it deals with things that will appeal to other first graders, including school issues and friends. Do Jo Jo's friends still want to be friends?
There are eight chapters and plenty of illustrations. Jo Jo teaches the reader some Native American words, and I like the way she is delighted with her family, her friends, and her community.
There's some kid-level humor when she sneaks her cat Mimi in her backpack and Mimi hides in a model tipi. And of course a school story is going to have some friend drama — it all comes out happy in the end.
Here's a fun scene that shows Jo Jo's way of thinking:
I like to do math thinking about my Ojibwe community. Like last week Teacher asked us to think about a math problem: Five people want to eat a bunch of four bananas. Each person can have only one. How many people don't get a banana?

I answered, "Everyone gets some bananas."

Teacher shook his head no. He said that one person would not get any bananas.

"But we all share what we have," I said. "That's what Native people do."

Teacher didn't say anything after that. See? I'm good at math.
This is a fun new series for kids ready for chapter books, and I love that Jo Jo's pride in her people and her home comes through. There's a blurb at the back for the organization We Need Diverse Books, which has a goal "to create a world where every child can see themselves in the pages of a book."
dawnquigley.com
moxyfox.ca
cynthialeitichsmith.com
diversebooks.org
This review is only on the blog.
Disclosure: I am an Amazon Affiliate, and will earn a small percentage if you order a book on Amazon after clicking through from my site.
Disclaimer: I am a professional librarian, but the views expressed are solely my own, and in no way represent the official views of my employer or of any committee or group of which I am part.
What did you think of this book?