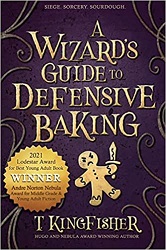 A Wizard's Guide to Defensive Baking
by T. Kingfisher
read by Patricia Santomasso
Tantor Audio, October 2021. 8 hours, 30 minutes.
Review written March 30, 2022, from a library eaudiobook
Starred Review
2020 Andre Norton Nebula Award Winner
2021 Locus Award Winner for Young Adult Fiction
2021 Mythopoeic Fantasy Award Winner for Children's Literature
I loved this book! I listened to it while driving to and from vacation, and it helped make the driving delightful. Patricia Santomasso's English accent captured the voice and tone of the main character beautifully.
The book begins when 14-year-old Mona goes in to work in her aunt's bakery in the wee hours of the morning — and finds a dead body! Even worse, when the authorities are alerted, they think Mona is suspicious because she's a magic worker. Never mind that her magic is confined to working with bread.
Mona can make dough rise quickly, keep bread from burning, and even make gingerbread men dance. She's got a sourdough starter in the basement named Bob that seems to be sentient. But she certainly wouldn't be able to kill anyone with bread!
Fortunately, when Mona is brought before the duchess, things get straightened out — but that's only the beginning. More magic workers are dying, and Mona, even confined to bread magic, may be a target. And things keep going and escalating — until the fate of the entire city may depend on Mona using bread magic to defend against an invading army.
This book is just so much fun. Mona is resourceful and compassionate and knows her own limits. The book is full of humor and joy as we read about a worthy heroine thrust into impossible situations and figuring out how to do her best.
Find this review on Sonderbooks at: www.sonderbooks.com/Teens/wizards_guide_to_defensive_baking.html
Disclosure: I am an Amazon Affiliate, and will earn a small percentage if you order a book on Amazon after clicking through from my site.
Disclaimer: I am a professional librarian, but the views expressed are solely my own, and in no way represent the official views of my employer or of any committee or group of which I am part.
What did you think of this book?