June 23, 2022, the Walter Dean Myers Awards and Symposium was held at the Martin Luther King, Jr Memorial Library in Washington, DC, sponsored by We Need Diverse Books.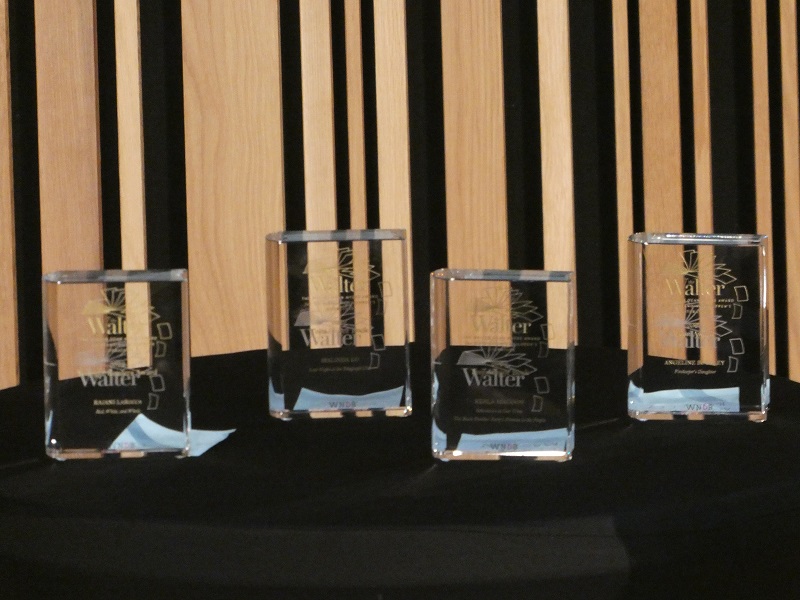 We were welcomed by Minh Lê, author of Lift.
Grace Lin presented the speakers. On everyone's minds were the recent wave of book banning. The bans target diverse books, so we need books like those celebrated today more than ever. Children need to see themselves on the pages of books. And all children need diverse books to learn empathy.
The day began with a symposium, "Open Books, Open Minds" for the Honor Book authors, though only one was able to be there in person. Malinda Lo had expected to come, but caught Covid. Natasha Donovan and Eden Royce answered some questions ahead of time over video.
In the auditorium, we had librarian Deb Taylor asking questions to Kekla Magoon, so we got extra insight into her amazing book, Revolution in Our Time.
Some lines that resonated for me:
Kekla Magoon: Books introduce us to new ideas.
Natasha Donovan: Books have special power to make us look at the world in new ways.
Eden Royce: Her people's stories have long gone unheard. Oral history is history.
KM: The Black Panther movement was bigger than individuals, and her challenge was not to let any one individual become to shiny. Women were the party, not playing a separate "role." A black panther only attacks when there's a threat.
If we only tell history from the point of view of a white cisgender heterosexual man, we don't get the full picture. It enriches our understanding to gain more perspectives.
She spent years researching this book and included almost 200 pictures, which needed permissions. She kept going because she knew how important it was.
Then came the presentation of the Walter Awards. Grace Lin began.
When the Walter Awards began in 2016, there were just under 50 submissions. In 2022, there were 400 submissions. Publishing is changing, and Walter Dean Myers helped make it happen with his article March 15, 2014, "Where Are the People of Color in Children's Books?".
Grace first got glasses at age 13, which finally enabled her to see clearly. Our country has been forced to put on glasses and is starting to see the world clearly.
Just because you don't see clearly, doesn't mean things aren't there. When she was the only Asian girl in her classes, adults dealt with race by not talking about it, trying to be "color blind." But that made it feel like a shameful secret.
Talking about diversity and inclusion is talking about humanity.
Grace was told that if her daughter didn't wear glasses, her vision would be permanently damaged. Not having diverse books can also cause permanent damage. Banning books is like withholding glasses from an entire generation of kids. Get these books! Give them to kids!
Then she presented the Honor Books for Younger Readers:
Root Magic, by Eden Royce.
Borders, by Thomas King, illustrated by Natasha Donovan.
And the 2022 Walter Award Winner for Younger Readers was Red, White, and Whole, by Rajani LaRocca.
Some notes from Rajani's acceptance speech:
When she was a child, books opened her mind to possibilities.
She was born in Bangalore, grew up in Louisville. And she loved books as a kid. They helped her understand other lives.
She told a teacher that she wanted to be a writer, but she would probably be a doctor instead. The teacher said, "Who says you have to choose?" and gave her a stack of books written by doctors.
When she read The Namesake, by Jhumpa Lahiri, her life changed. It was the first time she'd seen herself in a book.
The story in Red, White, and Whole came to her as a metaphor about blood. She felt torn by all the things she is.
It's important to read books about people not like us. Let's keep books open to young readers.
Next, they presented the Honor Books for Teen Readers:
Kekla Magoon, for Revolution in Our Time.
Malinda Lo, for Last Night at the Telegraph Club.
And the 2022 Walter Award Winner for Teens was Angeline Boulley for Firekeeper's Daughter.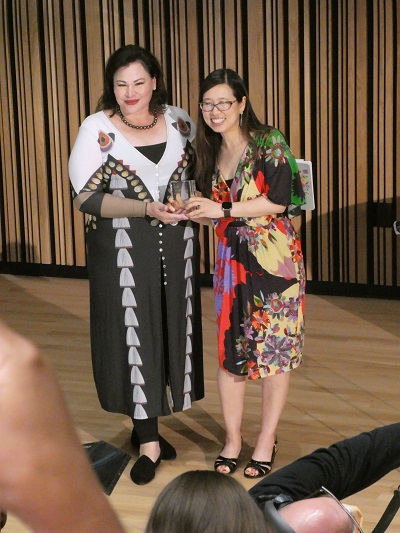 Highlights from Angeline's speech:
This was a full circle moment for her. She applied in 2017 to be a We Need Diverse Books mentee with the manuscript for this very book, but was not selected. She did some rewriting and applied again in 2018 and was assigned to Francisco X. Stork as her mentor.
When she'd worked through the manuscript, Francisco had her submit it to his agent, and the book has been wildly successful.
The story started when she was 18. That was the first time she ever read a book with a Native main character — but it wasn't very good representation.
It changes how a kid views themselves and their place in the world. To see her background can be her greatest strength is life-changing and empowering.
After the awards, I purchased books and had them signed by Rajani, Kekla, and Angeline. It was an inspiring morning, and it was good to be back together with children's book people!