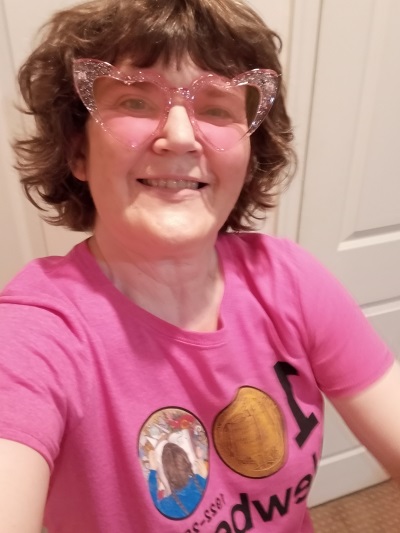 I spent most of the Saturday of ALA Annual Conference in the exhibits, having a wonderful time. I got books signed by Nancy Pearl, Christina Soontornvat, Gail Jarrow, L. M. Elliott, and I'm sure several more people. I went to a lunch hosted by Scholastic Press where they gave us a nice tote bag filled with five books and had the five authors speak — so of course now I very much want to read all five books. They also gave some swag related to the books like these lovely pink glasses!
I picked up lots more free advance reader copies in the exhibits, and had to make a trip to my car in the middle of the day so I could reload. Here's how my pile looked after Saturday:
As you can see, restraint had gone out the window!
I went to a talk by David Levithan with some teen DC Public Library interns talking about Freedom to Read. Here are some notes from him and the teens he was interviewing:
As of 2020, David Levithan was the 8th most banned author in America. Book bannings feel different now — it's a national movement to ban books.
Book banning always does more harm than good.
Kids will still find out about the issue. But books give a fuller picture.
Once teens get in the library, there's always a chance they'll pick up a book.
How do you ban someone talking about their life story?
Story isn't a competitive thing. Movies and books don't compete with each other.
David Levithan taps into the universality of teen experience.
He started in publishing as the editor of the Babysitter's Club series — and he still edits the Babysitter's Club series.
Books don't get banned as much if you actually have to read them to know there's LGBTQ content. His books, such as Two Boys Kissing, obviously have LGBTQ content.
They're trying to prey upon parents who are scared, to get people to run away from public education.
Our literature has to be representative. Reading a story with emotions make LGBTQ kids feel they belong. The power of recognition.
There isn't an ounce of truth in the mud-slinging. He's not writing to push buttons, but being truthful will push buttons.
His new book, Answers in the Pages, is about book challenges. (I did get a copy signed by him later!)
The authors are in it together. The publishers don't walk away, they double down.
Now there are more books about LGBTQ Joy, not just trauma.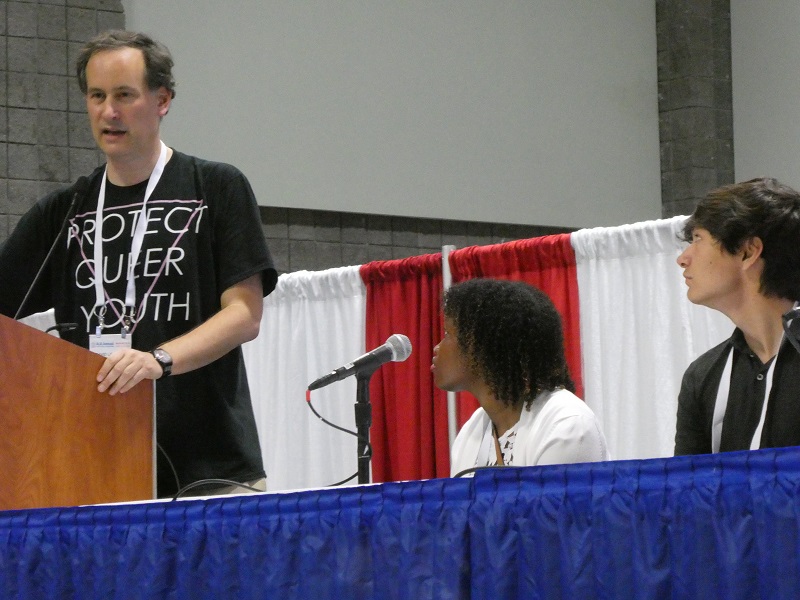 ***
After that inspiring session, I had more time in the Exhibit Hall. Besides picking up free books, I also talked with some vendor representatives our library purchases from and had the fun of mentioning that I'm the new Youth Materials Selector for my library system.
And the day ended with a celebration of 100 years of the Newbery Medal!
Besides that being very cool all by itself, I was looking for the room along with Megan Whalen Turner, one of my favorite authors, who won Newbery Honor with The Thief in 1997. We helped each other find the room (She found the right hall, and I found the right door) and sat together.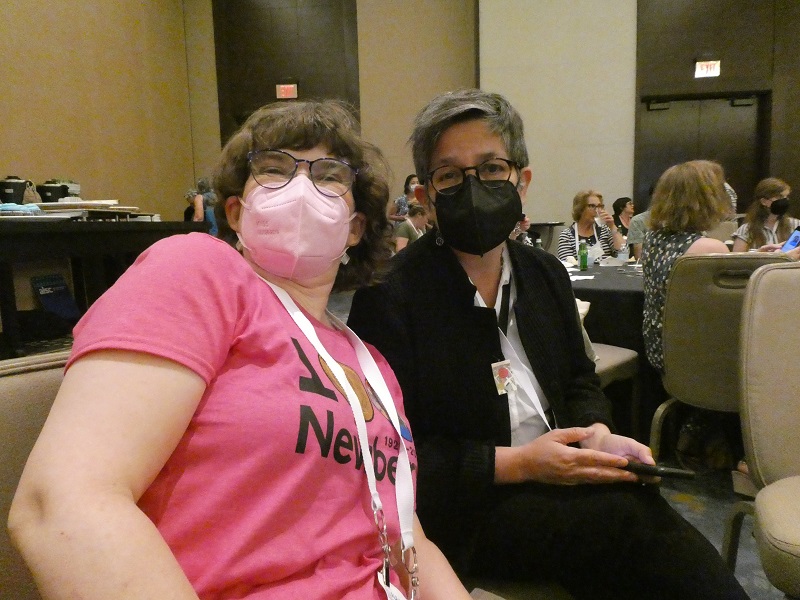 The celebration was fun stuff — a film showing titles, with quotes from authors, a presentation of trivia, and a competition of authors vs. librarians of knowing detailed facts about their award-winning books. I'd read all the books featured, but hardly knew any answers — these were *very* obscure details!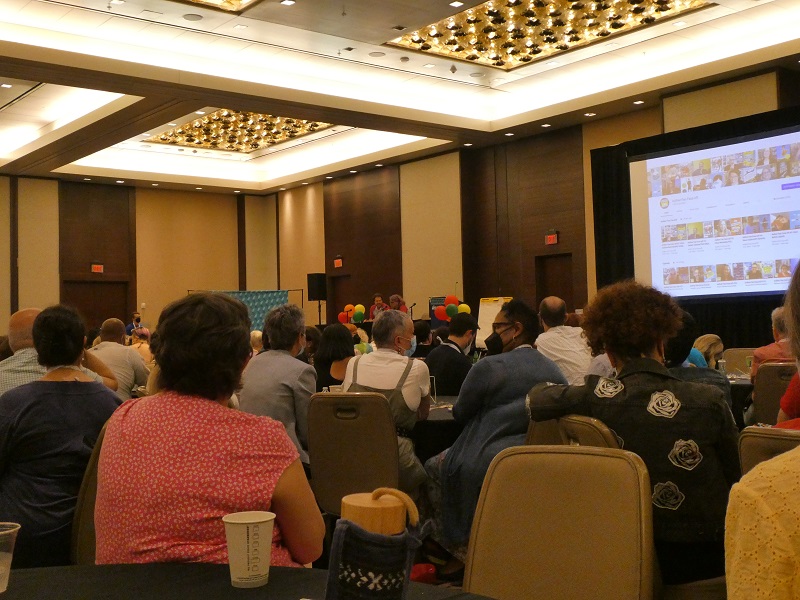 After the formal program, many Newbery authors were doing giveaways and signings. I got an ARC from Meg Medina — along with a hug! She was the winner of the Newbery Medal the year I was on the committee. She has written the third and final book about Merci Suárez, and I was delighted to get a signed copy.
I went home "early" that day (leaving DC around 6 pm), but with a full heart.