My third day of ALA Annual Conference, on June 26, 2022, began at 9 AM with the YA Author Coffee Klatch.
Most years, the authors who participate in this event were all award winners, but this time there were some debut authors in the mix. We got about five minutes with each author before they moved to the next table, so not much time to interact, but it was fun to hear personally about their books.
At first I was shy, but after the first few, I took pictures, so I'd remember them and their books.
Here are the authors I met:
Lisa Fipps, author of Starfish. Book Two is coming!
Vincent Tirado, author of Burn Down, Rise Up. The characters go back in time to the Bronx in the 70s.
Angeline Boulley, author of Firekeeper's Daughter. Book Two is also coming for her! It will be same setting, different characters.
Kyle Lukoff, author of Different Kinds of Fruit.
Gail Jarrow, author of American Murderer. She gave us gummy worms as swag for a book about a worm parasite!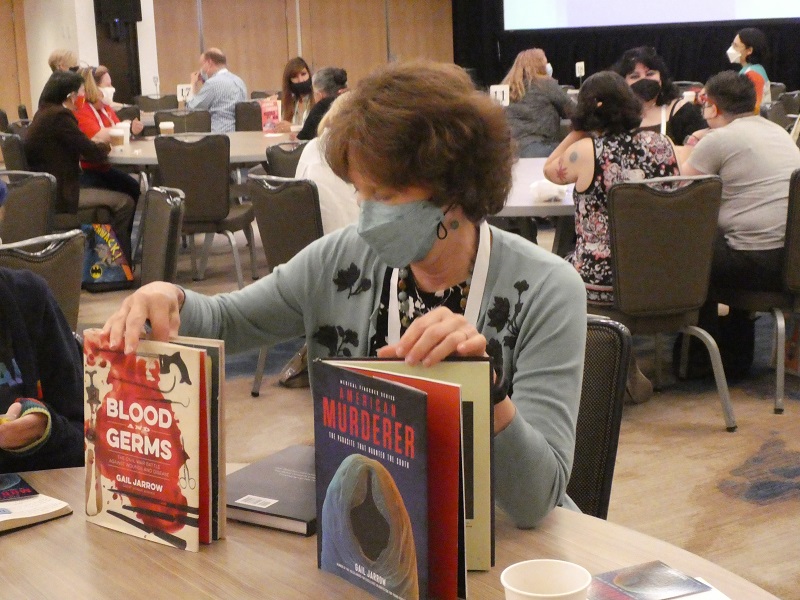 Anath Hirsh, author of Pixels of You, soft sci-fi graphic novel about artificial intelligence and presenting as human.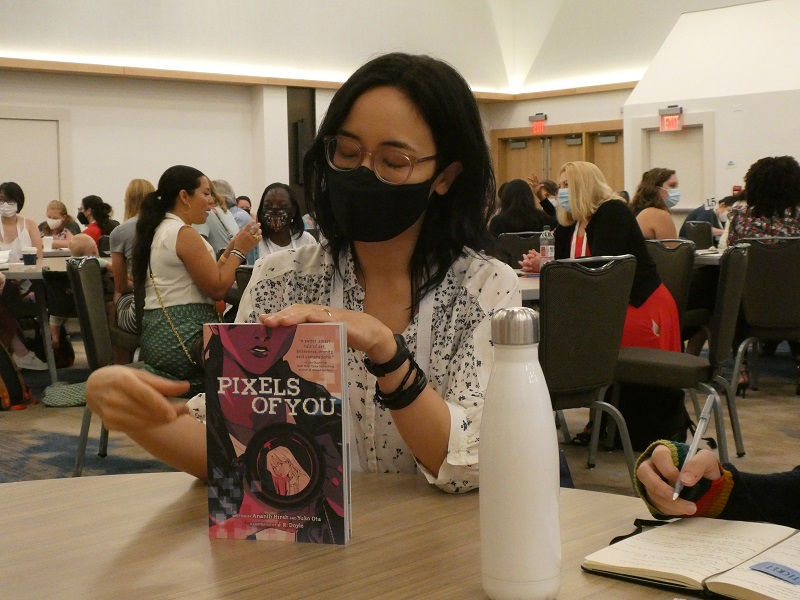 Laekan Zea Kemp, author of Somewhere Between Bitter and Sweet, Heartbreak Symphony (2022), and An Appetite for Miracles (2023). The first one was about food, the new one is about music overcoming grief, and the next is about food and music and dementia.
Tim Grove, author of nonfiction The First Flight Around the World, and a new book, The World Turned Upside Down, about Yorktown, including a story about Lafayette's spy.
Diana Peterfreund, author of the Clue trilogy. It's great for doing library programming around. Send her pictures if you do a themed game night!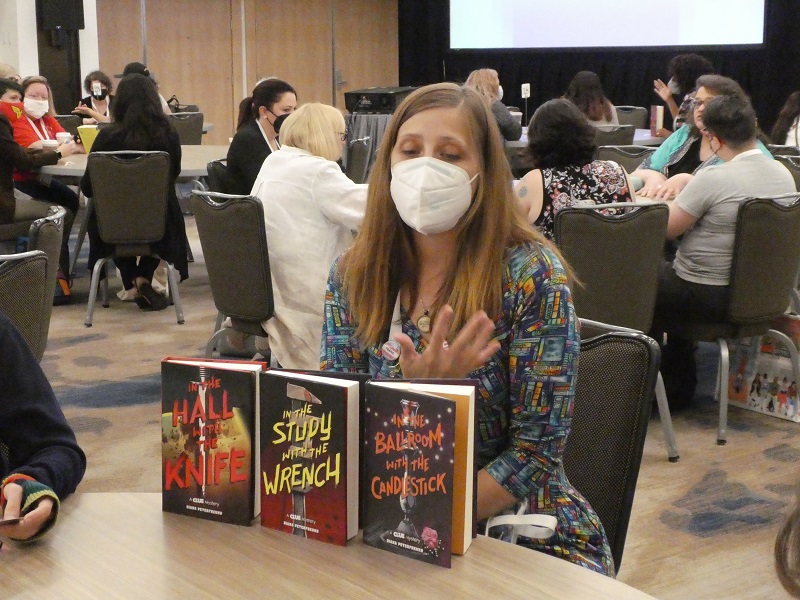 Judy Lin, author of A Magic Steeped in Poison and Venom Dark and Sweet (coming August 2022). It's Taiwanese-Chinese-inspired fantasy about a magical tea competition.
Cory Anderson, author of Morris Finalist What Beauty There Is, crime fiction set in rural Idaho.
Francesca Padila, author of What's Coming to Me, a debut novel, a mystery about a girl on her own in rural Long Island who discovers her boss is laundering money. (Oops! Missed her picture!)
Darcie Little Badger, author of two of my recent favorites, Elatsoe and A Snake Falls to Earth. They're inspired by storytelling structures and themes for the Lipan Apache. She has a PhD in Oceanography and wanted to combat a sense of helplessness and environmental anxiety.
Susan Azim Boyer, author of Jasmine Amideh Nees a Win, a funny book about the Iran hostage crisis and an Iranian American student feeling shame around her identity.
Vanessa L. Torres, author of The Turning Pointe (pub 2/22/22), about a Latinx ballet dancer in the 80s in Minneapolis. She encounters police brutality and leaves her emotions on the dance floor.
Marsha Argueta Mickelson, author of Pura Belpré Honor book Where I Belong, a contemporary YA novel where politics brings out the story. Her next book is called The Weight of Everything.
Ebony LaBelle, author of Love Radio, a YA romance set in Detroit. A love letter to Detroit and to families. Black joy.