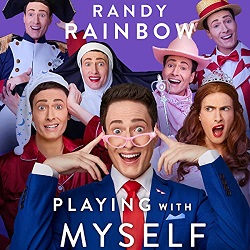 Playing with Myself
by Randy Rainbow
read by the author
Macmillan Audio, 2022. 7 hours, 2 minutes.
Review written July 21, 2022, from a library eaudiobook
Starred Review
I love Randy Rainbow! If you lean at all liberal politically, or maybe if you just enjoy show tunes, I hope you've seen his parody videos. They usually deal with current issues, but often include other fun content. He has a new one out, written with Alan Menken, called "Pink Glasses" about being willing to be yourself, using his trademark pink glasses as a symbol.
If there's anyone out there who still doesn't believe that some people are born gay, this audiobook is solid refutation of that world view. From childhood, Randy Rainbow (Yes, that's his real name.) loved Broadway show tunes and dressing up and acting out the female parts. This is the story of his unconventional route to fame — making parody videos in his bedroom.
In the audiobook, Randy's mother makes a special appearance as he interviews her about his childhood. I thought that chapter was especially fun.
But I found the whole thing adorable and inspiring. Yes, there's profanity peppered throughout — at a similar level as in his videos. Also a touch of adult humor here and there. But overall, it's a story of a kid who was bullied in school for being gay and overweight and having a funny name — going on to smashing success in part because of his exhaustive knowledge of Broadway show tunes.
It's fun hearing about his unlikely path to stardom and his unbridled joy in getting appreciation from his idols such as Barbra Streisand and Patti LuPone. This audiobook felt like hearing a friend tell his story and just made me so happy for him as he found a true expression of his unique talents and a way straight into people's hearts (well maybe not exactly straight), including mine.
Find this review on Sonderbooks at: www.sonderbooks.com/Nonfiction/playing_with_myself.html
Disclosure: I am an Amazon Affiliate, and will earn a small percentage if you order a book on Amazon after clicking through from my site.
Disclaimer: I am a professional librarian, but the views expressed are solely my own, and in no way represent the official views of my employer or of any committee or group of which I am part.
What did you think of this book?