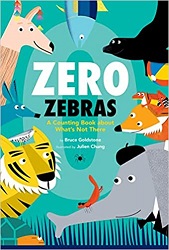 Zero Zebras
A Counting Book about What's Not There
by Bruce Goldstone
illustrated by Julien Chung
Orchard Books (Scholastic), 2022. 36 pages.
Review written January 8, 2023, from my own copy.
Starred Review
2022 Sonderbooks Stand-out: #6 Silly Fun Picture Books
I love this book in so many ways! In fact, many more than zero ways!
Here's how the book begins:
I see one wallaby . . .
. . . and zero zebras.

Two tuna splish
and splash
and splosh . . .
. . . with zero zebras.
You get the idea!
As things progress with various jazzy animals, there's wordplay and visual play:
Ten tigers tiptoe —
that's how many.

What about zebras?
There aren't any.

Eleven llamas
like to spit.

It's zero zebras
that they hit.
But the fun really begins after we pass twelve turtles on the page.
What's next? What's here?
What do you see
perching in this tree?
Why, look at that!
By now you've guessed.
Zero zebras — obviously.

But that's not all that isn't here!
Do you see zero eagles?
You'll find them next to zero pigs
and zero barking beagles.
Then we've got two more spreads with rhymes about all the things pictured that they are zero of.
The finishing thought is this:
So when you want to count a lot,
don't count what's there. Count what's not.

Try counting zeroes with your friends.
The list of zeroes never ends!
The final pages have thoughts from the author about zero and infinity.
So there you have it. A delightfully silly picture book that invites play and imagination and all kinds of fun — while getting kids thinking about the important mathematical concept of zero.
I did quote a lot of this book, but please let that invite you to see it for yourself, because a picture book is always best with the words and pictures together.
brucegoldstone.com
scholastic.com
Find this review on Sonderbooks at: www.sonderbooks.com/Picture_Books/zero_zebras.html
Disclosure: I am an Amazon Affiliate, and will earn a small percentage if you order a book on Amazon after clicking through from my site.
Disclaimer: I am a professional librarian, but the views expressed are solely my own, and in no way represent the official views of my employer or of any committee or group of which I am part.
What did you think of this book?