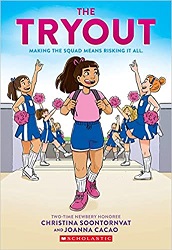 The Tryout
written by Christina Soontornvat
illustrated by Joanna Cacao
colors by Amanda LaFrenais
Graphix (Scholastic), 2022. 272 pages.
Review written January 12, 2023, from a library book.
Starred Review
I will keep saying it: Graphic novels are the perfect format for memoirs of middle school. And memoirs of middle school are perfect reading for kids currently going through it, to understand they are not alone. The Tryout will take its place with Raina Telgemeier's Smile, and Shannon Hale's Real Friends as wonderful encouraging books for middle school readers, looking at the middle school years from the perspective of adulthood.
This graphic novel memoir tells about Christina Soontornvat's experiences in middle school in a small town in Texas, where she and her best friend Megan were among very few students of color. Her father was from Thailand and her mother's whole family from Texas. Megan's father was from Iran. They'd been kindred spirits for years, and both decided to try out for cheerleading.
But they didn't have classes together, and when they both decided to try out for cheerleading, Megan chose a different partner. Was Christina going to lose that friendship?
The tryout itself was the same as happened at my high school — the kids tried out in front of the student body, in this case, the whole seventh grade. Yes, that was as much pressure as you can imagine. Christina Soontornvat and Joanna Cacao beautifully portray the anguish all the potential cheerleaders experienced.
With these books, it's always fun to see pictures at the back of the author when she was actually in middle school, and I really enjoyed these. Yes, she survived the experience!
A wonderful graphic memoir about middle school that kids are going to love.
Find this review on Sonderbooks at: www.sonderbooks.com/Childrens_Nonfiction/tryout.html
Disclosure: I am an Amazon Affiliate, and will earn a small percentage if you order a book on Amazon after clicking through from my site.
Disclaimer: I am a professional librarian, but the views expressed are solely my own, and in no way represent the official views of my employer or of any committee or group of which I am part.
What did you think of this book?